Frank Ocean drops 'Blonde' just days after releasing 'Endless.' Here's how to listen.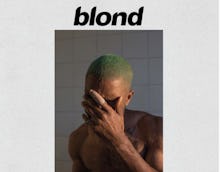 Frank Ocean season is upon us. Just two days after his official return to music with Endless following a four-year silence, Ocean has released another full length LP: Blonde. It clocks in at 17 tracks and is available here on iTunes and Apple Music.
The album also comes with a print publication bearing the project name fans have long been waiting to read: Boys Don't Cry. It's currently being distributed in pop-up shops in New York, Chicago, Los Angeles and London.
The album features "Nikes," which Ocean dropped as a video earlier Saturday morning, as well as a feature from the similarly reclusive Andre 3000 on "Solo (Reprise)."
As on Channel Orange, his first full-length album, Blonde features white-noise interludes and characters' dialogue to separate its tracks. The end of "Futura Free" captures a series of people being asked about their dreams, aspirations and secret talents. 
"Secret talents?" one voice responds. "I don't know, I'm pretty open in everything I do."
The album features all the transcendental, high-minded vibes Ocean has been instrumental in introducing to contemporary R&B. Blonde will likely prove to be the more commercially successful album of the artist's two recent drops, but both are brimming with candid ballads. "I thought I was dreaming when you told me you loved me," Ocean sings on "Ivy."
Boys Don't Cry clocks in around 360 pages according to Rolling Stone. It includes interviews with Ocean's mom and Lil B, as well as a multi-scene screenplay written by Ocean. There are even horoscopes and a "hopes and dreams" section. 
Fans attending the pop-up shops throughout major cities began spreading photos of their experiences across social media:
Meanwhile, the rest of Ocean's fans on Twitter, facing this flood of new content after such an agonizing wait, were understandably beside themselves.
Check the tracklist for Blonde below and listen via Apple Music here.
01 Nikes
August 20, 2016, 8:42 p.m.: This story has been updated.