Donald Trump asks black voters: "What do you have to lose?"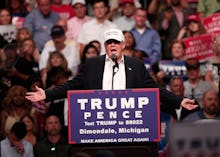 It's an understatement to say Donald Trump isn't known for his sensitivity with regards to racial issues. Yet he sunk to new lows at a rally Friday evening in Michigan, where he regurgitated every single stereotype about people of color under the sun — while simultaneously trying to appeal to black voters. 
As the Donald would say, sad!
At the rally in Dimondale, Michigan — a village that's 93% white — Trump tried to appeal to black voters by telling them that Democratic politicians who work with black communities have largely failed them. 
"We can never fix our problems by relying on the same politicians who created our problems in the first place," Trump said, according to Politico. "A new future requires brand-new leadership."
Trump went on to suggest that black voters should gamble on casting their votes for him, simply because their current prospects are so dismal that they have no other options. 
"You're living in poverty, your schools are no good, you have no jobs. Fifty-eight percent of your youth is unemployed," Trump said. (This statistic is wrong, according to PolitiFact; the actual percentage is around 27.9%, according to the Bureau of Labor Statistics.) "What the hell do you have to lose?" 
Trump's nonchalant appeal seems to be his primary strategy in winning over black voters, the vast majority of whom are already voting for Hillary Clinton. (In fact, according to a recent poll commissioned by NBC News, the Wall Street Journal and Marist University, only 6% of black voters nationwide plan to vote for Trump, while other estimates put that percentage much lower.) 
Trump's "what do you have to lose?" plea comes on the tail end of a similar speech at a rally Thursday in Charlotte, North Carolina. 
"What do you have to lose by trying something new? I will fix it," Trump said. "This means so much to me, and I will work as hard as I can to bring new opportunity to places in our country which have not known opportunity in a very long time."
While this argument might strike black voters as breathtakingly offensive at worst and patronizing at best, Trump seems pretty confident in its effectiveness. At the Michigan rally, Trump said if he were elected president, he could get "over 95% of the African-American vote" at the end of his first term, "because I will produce."
Given how poorly Trump is polling among African-American voters, it's unclear where, exactly, that bravado is coming from. One thing, however, is clear: The answer to the question of what black voters "have to lose" by voting for Trump is "everything."