The new teaser for 'Hairspray! Live' is out, so rejoice, theater dorks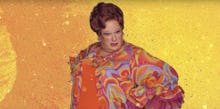 Listen, the 2007 film version of Hairspray was pretty lit. The costumes were on point. Nikki Blonsky was adorable. Even John Travolta was undeniably sassy AF, his inability to hit any and all of the notes in his songs be damned. 
Yet with a new decade comes a new era of live televised Broadway musicals, in the vein of The Wiz! Live, Grease Live and the upcoming Fox remake of The Rocky Horror Picture Show. (Let's not talk about Peter Pan Live. We're just gonna pretend like that one never happened.)
Which is why we're so excited about NBC's new teaser trailer for Hairspray! Live, starring Kristin Chenoweth, Jennifer Hudson and Ariana Grande, among others:
The trailer has everything: splashy, Pucci-inspired '60s mod dresses, beehive hairdos, Grande out of her signature ponytail (and in signature Penny Pingleton pigtails), and newcomer Maddie Baillio as Tracy Turnblad. We couldn't be more excited if Harvey Fierstein was reprising the role of Edna Turnblad, which he originated on Broadway — EXCEPT OH WAIT HE TOTALLY IS. 
Hairspray! Live premieres Dec. 7 on NBC.