Swimmer Gunnar Bentz apologizes, says footage is missing from gas station tapes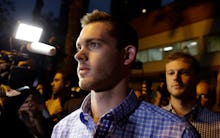 American swimmer Gunnar Bentz issued a public apology late Friday night for the gas station incident seen 'round the world, just hours after his teammate, Ryan Lochte, did the same.
Lochte had initially made claims to American media that he and three other members of the U.S. Olympic swim team he had been traveling home with were robbed at gunpoint in Brazil, but the incident was later flagged by the country's government as a potential case of vandalism by the four men.
Bentz, who is 20 years old, released his statement via the University of Georgia, where he is currently a student. He claims that although the Americans were never, in fact, robbed at gunpoint, security footage of the incident that has been circulating online doesn't tell the full story.
"I am confident that some video angles have not been shown that would further substantiate my account. I also believe some scenes have been skipped over," Bentz wrote.
Bentz's statement also confirms that some of the accusations levied against the four men by Brazilian authorities, such as the fact that they had urinated on the side of the gas station and caused damage to the property, are true.
Interestingly, the statement also describes a slightly different version of events than the apology Lochte had issued hours earlier by way of his personal Instagram.
"It's traumatic to be out late with your friends in a foreign country — with a language barrier — and have a stranger point a gun at you and demand money to let you leave," Lochte wrote. 
But according to Bentz, the four swimmers used a translator's help to determine what the armed men, who he described as "security guards," were saying, and the only money they were demanding was repayment for the damages that had just been caused to the gas station.
For that, Bentz says, he handed the men a $20 and his teammate, Jimmy Feigen, gave them 100 Reals — about $33, according to USA Today.