All 3 lawsuits against Kim Davis were just dismissed by a federal judge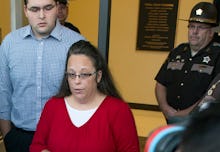 On Thursday, a United States District Court dismissed three previously pending lawsuits against Kim Davis, the Kentucky clerk who achieved notoriety after refusing to issue marriage licenses to same-sex couples in 2015.
According to the court order, enough has changed in Kentucky since the suits were filed to render them virtually irrelevant. The state elected a new governor, Matt Bevin, who signed an executive order to take the names of County Clerks off of marriage licenses that eventually turned into a Kentucky Senate Bill to create a new marriage license form. The bill was eventually signed into law.
Although Davis tried to appeal a 2015 preliminary injunction that ordered her to continue doling out marriage licenses to same-sex couples while the case was being decided, LGBTQ Nation notes that the law had changed by the time arguments were ready to be heard.
And so, on Thursday, the court officially struck down the cases, writing that "in view of the fact that the marriage licenses continue to be issued without incident, there no longer remains a case or controversy before the Court."
Mat Staver, the founder and chairman of Liberty Counsel and Davis' representation, called the dismissal "a victory" in a statement, according to LGBTQ Nation.
Kim Davis has won! We celebrate this victory for her and for every American. County clerks are now able to perform their public service without being forced to compromise their religious liberty. The case is now closed and the door has been shut on the ACLU's attempt to assess damages against Kim Davis. This victory is not just for Kim Davis. It is a victory for everyone who wants to remain true to their deeply-held religious beliefs regarding marriage while faithfully serving the public.
The dismissal might be a victory for Davis, but thanks to the new law that removes county clerks from the signatory process for marriage certificates, the same-sex couples in Kentucky are likely celebrating as well.