Sheriff Joe Arpaio may be criminally prosecuted for refusing to end racial profiling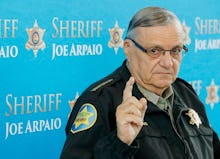 "America's toughest sheriff," a Donald Trump-supporting anti-immigration activist whose Arizona police department runs an outdoor desert jail where prisoners wear pink uniforms and settled with the Department of Justice over claims of anti-Latino discrimination last year, may soon find himself the defendant in a criminal case.
On Friday, Federal Judge G. Murray Snow requested the U.S. Attorney's office prosecute Maricopa County Sheriff Joe Arpaio as well as some people working for him for criminal contempt, citing their efforts to keep the Maricopa County Sheriff's Office from complying with court-ordered mandates to stop racially profiling Latinos, CNN reported.
Arpaio has "a history of obfuscation and subversion of this court's orders that is as old as this case," Snow wrote, according to CNN. He added the sheriff and a top deputy "intentionally made a number of false statements under oath ... There is also probable cause to believe that many if not all of the statements were made in an attempt to obstruct any inquiry into their further wrongdoing and negligence."
According to the Chicago Tribune, Snow's order relates to Arpaio's failure to turn over records from a "secret investigation that Arpaio's foes say focused on Judge Snow in an attempt to discredit him," as well as "probable cause to believe Arpaio aide Jerry Sheridan and others violated orders in concealing nearly 1,500 IDs in an internal investigation into whether officers pocketed items from people during traffic stops."
In 2011, Snow ruled in favor of plaintiffs of a lawsuit against Arpaio alleging the sheriff's department deliberately targeted Latino drivers as part of a broader overall extension of his anti-immigrant policies. But by two years later, the sheriff bragged on Fox News that he was not making changes, resulting in a civil contempt case.
The Republic's Laurie Roberts wrote "Arpaio's support has been slipping for years" and the criminal charges may endanger his re-election, adding "it's difficult to make the case for why you should continue as the county's top law enforcement official when you soon may be known as Inmate No. 2944814."
In the past year, Arpaio has been an outspoken advocate of Trump, endorsing him in January and issuing a speech at the Republican National Convention saying the U.S. has "terrorists coming over our border, infiltrating our communities and causing massive destruction and mayhem ... Donald Trump will build the wall!"