Ali Daqneesh, brother of Omran Daqneesh, dies from wounds in airstrike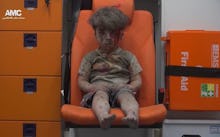 The brother of the Syrian boy whose photo in the aftermath of an airstrike this week has died, Aleppo Media Center director Yousef Saddiq told CNN this weekend.
10-year-old Ali Daqneesh died of injuries sustained during the same airstrike which resulted in the photo of his 5-year-old brother Omran Daqneesh, who was covered in ash and blood following a suspected Russian airstrike in the Syrian city of Aleppo, becoming widely circulated throughout the international media this week. Ali's mother remains hospitalized in "critical condition," Saddiq told CNN.
The Daqneesh family is far from the only shattered in Aleppo under the specter of Syria's five-year civil war, which is still continuing with no end in sight.
Aleppo in particular has suffered greatly, with much of the city reduced to rubble amid fighting between the government of strongman Bashar al-Assad and various rebel groups fighting his rule. As the country's largest pre-war city, control of Aleppo is seen as a crucial objective for all parties to the conflict, and fighting in the city has only intensified recently, according to the Washington Post.
U.S.-supported rebel groups in the city center and to its north have been hammered by joint Russian-Syrian airstrikes and artillery, while Islamist forces in the city's south (most notably the al-Qaeda offshoot Jabhat al-Nusra, which recently changed its name to Jabhat Fatah al-Sham and said it no longer was allied with al-Qaeda) destroyed a government encirclement force and have entered Aleppo proper.
Since 2012, intense fighting in Aleppo has seen the use of barrel bombs, airstrikes, suicide attacks and even poison gas, all of which have been used indiscriminately and against civilians. Earlier this year, the United Nations envoy for Syria estimate the nationwide death toll may be as high as 400,000; the last official UN estimate of 250,000 two years ago has stopped being updated because officials cannot accurately tally the data.
The photo of Ali Daqneesh spurred comparisons to the now-famous photograph of the body of Aylan Kurdi, a three-year-old Syrian refugee who drowned off the shores of Greece — and with it, the unsettling notion once the initial attention around the photo fades, so too will the short spike in international interest in reaching a peaceful solution to the problem that generated it.