Federal court rules it's legal for employers to discriminate against trans people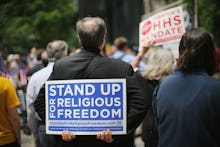 A trans woman in Michigan has lost a court bid to reinstate her position at a funeral home in the Detroit area, reported the Washington Post on Friday, after a federal judge decided her employer had a right to terminate her under the federal Religious Freedom Restoration Act.
55-year-old Aimee Stephens filed a complaint with the Equal Employment Opportunity Commission in 2007 after informing R.G. &. G.R. Harris Funeral Homes she would be having sex reassignment surgery and returning to work in the "skirt-suit" attire mandated the company's female employees, only to be fired.
The EEOC, a federal agency which enforces nondiscrimination laws in the workplace began representing her case. It argued that although federal law currently does not recognize LGBTQ people as a protected class, Stephens was nonetheless being discriminated against under Title VII, since the funeral home "nonetheless fired Stephens based on sex stereotypes of how men and women should dress," the Post wrote.
But on Thursday, U.S. District Judge Sean F. Cox put a temporary stop to Stephens' protracted legal battle when he ruled the RFRA gave funeral director Thomas Rost the right to run his business in accordance with his anti-LGBT religious beliefs.
"Rost sincerely believes that the 'Bible teaches that a person's sex (whether male or female) is an immutable God-given gift and that it is wrong for a person to deny his or her God-given sex,'" Cox wrote in his decision. "... Requiring the Funeral Home to provide a skirt to and/or allow an employee born a biological male to wear a skirt at work would impose a substantial burden on the ability of Rost to conduct his business in accordance with his sincerely-held religious beliefs."
Vox reported Cox's decision "is the first time a court found that the federal Religious Freedom Restoration Act (RFRA) can potentially be used to discriminate against LGBTQ people," even though the ruling is likely to be overturned.
According to NBC News, Stephens says the EEOC told her it plans to appeal the decision.
Since the U.S. Supreme Court's 2015 decision to legalize same-sex marriage nationwide, some social conservatives who remain opposed to LGBTQ equality in the public sphere have devoted their energies to implementing and defending "religious freedom" laws. One key aim of such laws is preventing authorities from taking action against religious individuals who discriminate against LGBTQ people, but they have other components as well. 
One such prominent battle over "religious freedom" was 2014's Burwell v. Hobby Lobby Stores, Inc., in which the U.S. Supreme Court ruled the crafting-supplies chain did not have to pay for female employees' birth control. As the L.A. Times noted, the precedent established in that case played a key role in Cox's decision.