Blast in Gaziantep, Turkey, kills at least 20, wounds more than 90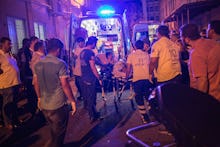 A blast at a wedding party in the city of Gaziantep, in southern Turkey, killed at least 51 people and wounded dozens more on Saturday, the Associated Press reported.
According to the Telegraph, Gaziantep Province Governor Ali Yerlikaya told Turkish news agency Anadolu that the explosion, in Gaziantep's Sahinbey district, was the result of a deliberate "terror attack."
On Sunday, President Recep Tayyip Erdogan told reporters the attacker  was just 12 to 14 years old.
Although no group has claimed responsibility for the attacks, Erdogan blamed the Islamic State, the terror organization which has taken over large swathes of nearby Syria. Other possible culprits include the Kurdistan Workers Party, commonly known as the PKK, a Kurdish militant group seeking independence in southeastern Turkey. Several major attacks in Turkey over the course of the last year have been blamed on either group, including a dramatic assault on Istanbul Atatürk Airport which killed at least 47 on June 28 and which officials believe was orchestrated by an IS affiliate.
Terror attacks are only one element of Turkey's increasingly perilous security situation. In July, armed factions of the military attempted to seize control of the government, failing to depose Erdogan and the ruling AKP party, but triggering a wave of mass, retaliatory arrests.
Aug. 21, 2016 at 11:45 a,m.: This story has been updated.