Al Roker drags Billy Bush for defending Ryan Lochte's Rio robbery lie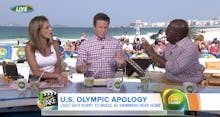 Don't lie to Al Roker's face.
That's the lesson that Billy Bush, Roker's co-anchor for NBC's 2016 Summer Olympics coverage, learned when he tried to defend U.S. swimmer Ryan Lochte's fabrication of a robbery in Rio de Janeiro as a simple "embellishment." 
"He lied," Roker told Billy Bush during a recent segment of Today. "He lied to you, he lied to Matt Lauer, he lied to his mom. He left his teammates hanging while he skedaddled. There was no robbery, there was no pull over. ... He lied."
Lochte was recently exposed for telling American media that he and three of his fellow American swimmers had been robbed at gunpoint during a late-night taxi ride back to the Olympic Village — when in reality, armed security guards had been trying to hold them accountable for drunkenly damaging and peeing on the side of a gas station.
It was a lie that exemplified the arrogance and privilege of an American man who tried to exploit an entire country as the world watched. 
"Sure, he embellished some details ... " Bush began to say before being cut off by Roker, who insisted, "No, no, no, he lied."
Bush then tried to diffuse his obvious excuse-making by paraphrasing the words of Rio spokesperson Mario Andrada, saying of Lochte and company: "They're kids traveling abroad, they're great athletes, they're great swimmers, we don't want an apology from them."
A viral version of the clip, put together by Cafe.com, highlights the moments where Roker rightly points out the lies told by Lochte and the necessity of holding him accountable for them.
When it comes to making excuses for white, male American privilege, Roker is having none of it.