Turkey suicide bomber was only 12 to 14 years old, President Erdogan says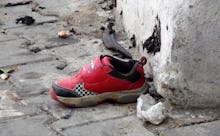 The suicide bomber who killed at least 50 people and wounded dozens more at an outdoor wedding in Gaziantep, Turkey, on Saturday was likely between 12 and 14 years old, according to Turkish President Recep Tayyip Erdogan.
During his televised remarks outside of City Hall in Istanbul on Sunday, Erdogan also said that the Islamic State was behind the deadly attack, according to the Associated Press.
The use of child suicide bombers is a grim reality within radical Islamic factions like ISIS.
NBC News reports that in Boko Haram, an African-based ISIS affiliate, 44 children were used in suicide bombings in 2015, up sharply from 4 children used by the group used in 2014. NBC reports that some of the children were as young as 8 years old. 
"Let us be clear — these children are victims, not perpetrators," regional UNICEF director Manuel Fontaine said of the children used by Boko Haram.
The bombing in Turkey has triggered a global outpouring of support for a nation that has been plagued by violent attacks as of late, including a military coup that threatened to overturn the Erdogan regime in July.
According to the Associated Press, John Bass, the United States ambassador to Turkey, condemned the "barbaric attack" and said that the U.S. "stands by our ally Turkey and pledge to continue to work closely together to defeat the common threat of terrorism."
Meanwhile, in St. Peter's Square, Pope Francis led hundreds of people in prayer for the victims of the bombing during his Sunday afternoon mass, according to AP.
Francis concluded the prayer by asking "for the gift of peace for everyone."