Frank Ocean's 'Blonde' / 'Boys Don't Cry' magazine: highlights and where to find a copy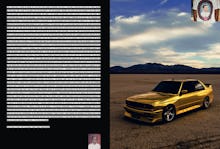 Say what you will about his ghosting or his work ethic, Frank Ocean knows how to make an entrance. 
After a four-year silence since his last studio LP, Thursday at midnight Ocean dropped the 45-minute visual album Endless after finally completing the spiral staircase he'd been building for over two weeks in his mysterious livestream. Two days later, he dropped the main course Blonde (styled "Blond" on the album's cover) along with the accompanying magazine fans have been waiting to thumb through since April 2015 — the mythic Boys Don't Cry.
It's filled with samples of Ocean's visual inspirations: Muscle cars, fantastic landscapes, dimly lit party scenes, like those that appear in his "Nikes" video, which also dropped Saturday. It includes interviews with Lil B and Ocean's mother, a screenplay, poetry by Frank Ocean and Kanye West and a copy of the album Blonde that reportedly contains slight musical variations, one being a verse from Japanese rapper Kohh at the end of "Nikes."
Ocean distributed the magazine, which came with for four different covers, for free at pop-up locations announced on his Tumblr. There were shops in New York City, Los Angeles, London and Chicago. Lines to get in reportedly wrapped around blocks, and in New York, the shop ran out of copies before everyone lined up could snag one.
According to an introductory essay, viewable on Ocean's Tumblr, the magazine is essentially a loose summation of the experiences and inspirations the artist has been turning over in his mind while working on Blonde.
"My memories are in these pages, places close by and long ass-numbing flights away" he writes, name dropping Tokyo, NYC, Miami, LA, London, Paris and Berlin as places he's visited in the course of making this album.
Fortunately for millions fans who couldn't get to a pop-up in time, fans have been sharing photos of some of the magazine's contents. 
"Boyfriend" a poem by Frank Ocean
"The McDonalds Man" a poem by Kanye West
The text reads, according to Billboard: 
"McDonald's man / McDonald's man / The French fries had a plan / The French fries had a plan / The salad bar and the ketchup made a band / Cus the French Fries had a plan / The French fries had a plan / McDonald's man / McDonald's / I know them French fries have a plan / I know them French fries have a plan / The cheeseburger and the shakes formed a band / To overthrow the French fries plan / I always knew them French fries was evil man / Smelling all good and shit / I don't trust no food that smells that good man / I don't trust it / I just can't / McDonald's man / McDonald's man / McDonald's, man / Them French fries look good tho / I knew the Diet Coke was jealous of the fries / I knew the McNuggets was jealous of the fries / Even the McRib was jealous of the fries / I could see it through his artificial meat eyes / And he only be there some of the time / Everybody was jealous of them French fries / Except for that one special guy / That smooth apple pie."
The album's list of collaborators:
It's unclear how many of these artists one can actually hear on the album, how many are samples and how many are merely inspirations. Beyoncé's angelic vocals appear on "Pink + White," Andre 3000 lends a verse to "Solo (Reprise)" and gospel singer Kim Burrell sings the conclusion of "Godspeed."
Interview with rapper Lil B aka the Based God
Photography from the "Nikes" music video and other stills
There hasn't been any word yet if Ocean is planning more pop-ups, or if the rumored digital version of the magazine is still in the works. As of now, the only places one can find are through re-selling websites like eBay, where the prices are already approaching $1,000. 
Mic has reached out to Apple for more information and will update if we hear back.