The secret meaning and hidden Beyoncé cameo on Frank Ocean's "Pink + White"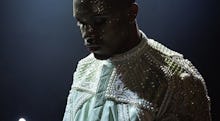 If Frank Ocean has taught us anything over the past four years, it's not to approach him or his art with any expectations. He will disappoint you to pursue his muse. It's best to approach his new albums, Endless and Blonde, with an open mind. They don't reveal their true beauty easily, but fans that are willing to be patient with their meandering, albeit fantastic melodies will marvel at the hidden gems.
"Pink + White," the album's third track is one of those treasures. It offers fans the nostalgic, poetic vibes of his early mix tapes with a new cherry on top: a harmonious vocal collaboration with queen Beyoncé.
The Lemonade singer enters the track two minutes in, her flawless vibrato ringing over Ocean's lyrics. "Take it easy," she hums, in transcendental, soothing tones. 
At its core, "Pink + White" is a track about lost love. "You showed me love/ Glory from above," Ocean croons. "Good glory, dear, it's all downhill from here." However, the song has an easy, laid back feel to it, as if the singer is trying to center himself for this transition. When Beyoncé's honeyed, angelic vocals chime in, this calming, centering quality becomes even more present.
The title of the track itself refers to aspects of existence, life and love that Ocean can't control. "That's the way everyday goes/ Every time we have no control," he begins to sing. "If the sky is pink and white/ If the ground is black and yellow/ It's the same way you showed me." He can't control these physical facts of existence anymore than he can control the people he falls in love with.
The track also contains some possible autobiographical nods. The song's second verse mentions a hurricane, possibly Hurricane Katrina, which submerged much of Ocean's then-home, New Orleans. He first transferred from the University of New Orleans, where he had been studying, and then dropped out of college altogether, moving back to the West Coast to focus on music. While recording there on Def Jam's dime, he eventually crossed paths with Beyoncé to collaborate on her 4 track "I Miss You." 
He's since lent vocals to her "Superpower," off Beyoncé's self-titled 2013 album.
This new track borrows something from each of their past collaborations, taking some of the waltz feel of "Superpower" and the longing lyrics of "I Miss You." This is the first time though that Ocean is in control of the song's direction, with Bey playing support. This move alone feels like a sign that Ocean has truly passed into a new echelon of celebrity. He is officially part of R&B's aristocracy, and the queen approves.