'The Daily Show' finds Donald Trump supporters largely fail "extreme vetting" test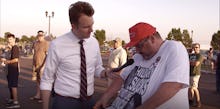 On Monday, preferred candidate of right-wing extremists, Donald Trump, introduced his "extreme vetting" plan for immigrants looking to enter the United States. His goal: to test applicants' ideology to ensure they support American values which include same-sex marriage, women's rights and religious freedom, among other things. "Extreme vetting," then, would seem to leave many of the candidate's own supporters out of the equation.
The Daily Show with Trevor Noah seized on this irony during its Thursday episode, sending correspondent Jordan Klepper into the field — a Wisconsin Trump rally — to put the Republican nominee's voter base to the test. While they largely agreed with "extreme vetting" as a concept, many of them didn't pass muster.
"Fill in the blank for me," Klepper asked one man. "Two men getting married is blank."
"Disgusting," the man responded, without any hesitation. The answer Klepper was looking for was "legal in the United States."
"It's important to have respect for everyone's religion," one woman wearing a Trump tee explained. When Klepper asked if she respected Christianity and Judaism, the answer was yes; when he came to Islam, her tune changed.
"No," was her immediate response.
One woman explained that women couldn't occupy the Oval Office because their hormones would prompt them to enter impulsively into foreign wars. Another explained that gay couples should not enjoy equal rights because it really wouldn't be "fair" to heterosexual couples.
"These extreme nations, they don't treat women with respect," one man — wearing a shirt that read "Hillary sucks, but not like Monica" on the front and "Trump that bitch" on the back — said, explaining that respecting women is "an American ideal."
These responses aren't surprising: Trump supporters are infamously intolerant. A May poll conducted by the Huffington Post confirmed that they are "less accepting of others than Republicans overall."
"Compared to supporters of other Republican candidates in the primary, Trump supporters really dislike many groups in America," the poll analysis read. "For these voters, Trump's blend of casual racism and muscular nativism is the core of his appeal."
Among the groups most irksome to [mostly white] Trump voter? "Feminists, Muslims, Latinos, Gays and Lesbians and Transgender people."