A necessary look back at the outlandish and enviable style from the very first VMAs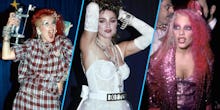 The red carpet for the MTV Video Music Awards is like no other. Singers show up in dresses made of meat, while others show up in actual garbage bags and fur bikinis. Rappers show up with just pasties on, while others show up in neon outfits that make them look like one of Willy Wonka's concoctions. 
Obviously, this is the kind of red carpet where people want to make a statement and not, under any circumstance, blend in. It turns out that started from the very beginning, in 1984, the first year that MTV held the awards ceremony. And much like today, the stars didn't show up to be ignored. 
So, to celebrate more than 30 years of one the most over-the-top award shows — one that has gifted us twerking Miley Cyrus, Kanye bumrushing Taylor Swift's awards speech and Diana Ross feeling up Lil' Kim — Mic decided to look back at the best style moments of the 1984 MTV Video Music Awards red carpet. 
David Lee Roth's leis 
Let's just quickly run through the look on David Lee Roth, the original lead singer of the band Van Halen, at the 1984 VMAs: metallic sunglasses, a tropical suit, bronze metallic shoes and a couple of Hawaiian leis, which effectively make for a shirt since he's not wearing a shirt cuz it's the first MTV Video Music Awards, baby, let's have fun and five too many drinks. 
He is all of us when it is just too hot in New York City to care, and also us at our very first Hawaiian-themed party during freshman year of college. He's a true style visionary unto himself — a Rihanna before Rihanna. 
Tina Turner's hair. That's it. 
If David Lee Roth is the freshman who's over-the-moon that he snuck into this party, Tina Turner is the senior who's just there to see her crush, perform "What's Love Got to Do With It" and then be like, "Imma go." 
You can tell this from her ensemble: a few too many necklaces that are much too long; an actual, honest-to-God blouse; a cardigan over that blouse. But also: the hair. The hair is a sign that she also maybe came here to have a little fun and let loose and make fun of David Lee Roth. We applaud this. 
Diana Ross' pajamas-turned-evening wear 
By 1984, Diana Ross was already a verified icon, and thus, she could show up to an awards show in what really just looks like her pajamas. 
It's just a long, unbuttoned silken shirt with matching pants, and a blouse underneath. The important thing is she looks like she's having fun, and very comfortable for presenting at the show. 
We didn't immediately know who this woman is but we like her.
This woman's name is Dale Bozzio and she was the lead singer of the '80s new wave band Missing Persons. Unfortunately, it appears as though her talent has been forgotten over time.
But you know what hasn't been lost in time? This look. (Thanks, Getty Images.) 
Bozzio, a true hero, showed up to the MTV VMAs in bright pink hair that matched her pink sequin jacket, her pink eyeshadow, her pink lipstick and her pink glittery dress. It's all very Gwen Stefani in 1999, with just a pinch of Lady Gaga. 
Cyndi Lauper's eyeshadow 
Of course Cyndi Lauper showed up to the MTV VMAs in proper MTV VMAs attire. 
To the show — during which she won a moonman for best female video for, of course, "Girls Just Want to Have Fun" and made a completely unintelligible speech — she wore a plaid dress with lots of diamond necklaces and bracelets, a shock of red hair and bright silver eyeshadow that extended all the way to her eyebrows and then some. 
Lauper, along with a few other women at the show, were quietly setting the standard for the VMA red carpet to be a wild one, sans any rules or order. We are forever thankful for that. 
Cher's important headband 
The best thing about this outfit is that it looks like Cher gave it absolutely no thought at all. But of course, because this is Cher we're talking about, it's amazing. 
It looks like she walked into her closet and just started putting things on that fit her body. A sparkly tank top? Excellent idea. A long, tight skirt? Sure. A jacket? Great. Oh, and earrings! OK, but then... something else. 
What she landed on was a piece of lace wrapped around her head for no reason at all. She topped off the look by swiping on some purple eyeshadow and making sure her tiny bleached mullet was in its proper place. 
May this look never be forgotten. 
Of course, Madonna bested everyone in a wedding dress.
You probably don't know many specifics about the 1984 MTV Video Music Awards, like how Dan Aykroyd and Bette Midler hosted or that it was held at New York City's Radio City Music Hall. But the one thing you've probably seen at least a few seconds of is Madonna's performance. 
As a quick refresher, it involved Madonna slinking (and humping) around on stage to her hit song "Like a Virgin" in a white wedding dress, white lingerie, pearl necklaces and a silver belt that read "boy toy." Certainly unbeknownst to her at the time, Madonna stole the show by showing up in one of the most iconic outfits in music history, and also dry humping the floor on television. 
She ended the performance by looking like she had passed out cold on the floor, which is exactly as it should be. 
Of course, the performance would be recreated in 2003 alongside Britney Spears and Christina Aguilera and involved a same-sex smooch, but the original is the one that will live in real infamy. 
Even though this show was more than 30 years ago, attendees of the 2016 MTV Video Music Awards on Sunday now certainly have something to strive for.