Kanye West contributes McDonald's conspiracy theory to Frank Ocean's zine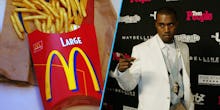 Kanye West has concocted a bizarre and incoherent conspiracy theory about McDonald's french fries and Frank Ocean has given him a platform to share it. The fries have a plan, West says; he has always known this, and now you do, too.
Huh? Confused? So is the whole internet.
Some background: Ocean finally dropped his sophomore album — Blonde — on Saturday night. With it came a zine entitled Boys Don't Cry. To said zine, West contributed a poem charting a strange story of fry-fueled jealousy that may or may not be him projecting his inner feels and fears. The poem is called "The McDonald's Man," and we're reprinting it here, in its entirety, in case readers care to read.  
The McDonald's Man
McDonalds man
McDonalds man
McDonalds man