Feyisa Lilesa's gesture of solidarity at the Rio Olympics could cost him his life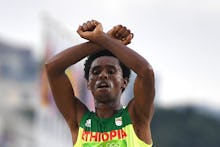 Ethiopian runner Feyisa Lilesa, who won a silver medal in the men's marathon at the 2016 Rio Olympics on Sunday, may have put his own life on the line by flashing a symbol of political protest during his race.
Lilesa crossed his wrists with his arms in the air as a symbol of solidarity associated with the Oromo protests, a series of demonstrations by the people of Ethiopia's largest region of Oromia against the encroachment on their land and resources by Addis Ababa, the country's biggest city. According to Human Rights Watch, Ethiopian authorities have met the protests with lethal force, killing over 400 people with live ammunition and arresting thousands.
As the BBC noted, symbols of defiance have a history at the Olympics, despite a section of the Olympic charter banning political displays at the games.
"The American duo of Tommie Smith and John Carlos were famously stripped of their medals after the pair flashed the black power salute on the medal stand at the 1968 Summer Games," the BBC reported.
Lilesa's decision puts him at risk of heavy-handed treatment by Ethiopian authorities.
"Security forces regularly arrested dozens of people at each protest, and in many locations security forces went door-to-door at night arresting students and those accommodating students in their homes," wrote Human Rights Watch. "Security forces also specifically targeted for arrest those perceived to be influential members of the Oromo community, such as musicians, teachers, opposition members and others thought to have the ability to mobilize the community for further protests. Many of those arrested and detained by the security forces have been children under age 18."
Just days ago, the U.S. State Department issued a travel warning for those headed to Ethiopia, warning them anti-government protests are a site of potential violence as well as possible communication blackouts due to suspended telephone and internet services.
"I was protesting for my people," Lilesa told the Sydney Morning Herald. "It was for all my relatives in prison. I am worried to ask my relatives to talk in prison — if you talk you get killed."
"If I go back to Ethiopia maybe they will kill me," he added. "If I am not killed maybe they will put me in prison. [If ] they [do] not put me in prison they will block me at airport. I have got a decision. Maybe I move to another country."
"It is a very bad government," Lilesa concluded. "Now America, England, France support this government when they give this support it buys machine guns then they kill the people."