Mongolian wrestling coaches lose it, rip off clothes after bronze medal loss in Rio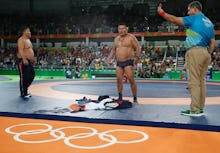 Two coaches for Mongolian wrestler Ganzorigiin Mandakhnaran ripped off their clothes and threw them at referees after Mandakhnaran narrowly lost the 65kg freestyle wrestling bronze medal to Uzbekistan's Ikhtiyor Navruzov at the 2016 Rio Olympics, the National Post reported on Sunday.
According to the Post, Mandakhnaran celebrated his 7-6 win over Navruzov seconds before the match was officially over, resulting in referees awarding Navruzov a penalty point. Since Navruzov scored last, he won the bronze medal, prompting coaches Tserenbaatar Tsogtbayar and Byambarenchin Bayaraa to rip off their clothes in protest.
According to ESPN's Wayne Drehs, the coaches had to be "removed by Brazilian security."
An NBC broadcaster giving live coverage of the match called the situation "absolutely ridiculous," adding the two coaches would likely never return to the Olympics again.
Here's some more shots of what happened:
Ripping off your clothes is, of course, one of the ridiculous ways someone can respond to a perceived insult, but to the coaches' credit, message heard loud and clear.