Donald Trump accuses 'Morning Joe' anchors Mika Brzezinski and Joe Scarborough of affair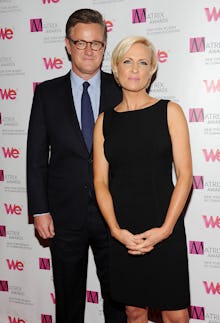 Donald Trump on Monday morning took to Twitter to accuse the hosts of MSNBC's Morning Joe of having an affair — an attack that appears to have ended the Republican presidential nominee's attempt at a more contrite persona.
"Some day, when things calm down, I'll tell the real story of @JoeNBC and his very insecure long-time girlfriend, @morningmika. Two clowns!" Trump tweeted of Mika Brzezinski and Joe Scarborough.
Right before accusing the pair of an affair — an unconfirmed rumor that's been circulating for months — Trump warmed up with a tweet calling Brzezinski "a neurotic and not very bright mess!"
Scarborough responded to Trump's attacks by calling his gossip-mongering an unproductive use of the Republican standard-bearer's time.
Last week, Trump attempted to express regret for past comments, saying that in the "heat of the debate" he may not have chosen "the right words."
For a few days, he held off on insults and even attempted to reach out to communities of color.
And on Sunday, Trump's new campaign manager, Kellyanne Conway, said Trump "doesn't hurl personal insults."