Armed White Lives Matter group rallies in front of Houston NAACP building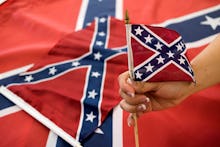 Around 20 White Lives Matter activists held a protest outside the National Association for the Advancement of Colored People's Houston chapter headquarters on Sunday, carrying confederate flags and, in some cases, assault rifles, the Houston Chronicle reported. Members of the group claimed they were demonstrating against the NAACP and Black Lives Matter's actions.
"We came out here to protest against the NAACP and their failure in speaking out against the atrocities that organizations like Black Lives Matter and other pro-black organizations have caused the attack and killing of white police officers, the burning down of cities and things of that nature," White Lives Matter protester Ken Reed told the Houston Chronicle. "If they're going to be a civil rights organization and defend their people, they also need to hold their people accountable."
Reed said the reason for the confederate flags was to show Southern pride, and the assault rifles were to defend themselves from potential counter-protesters.
"We're not out here to instigate or start any problems," Reed told the Chronicle. "Obviously we're exercising our Second Amendment rights but that's because we have to defend ourselves. Their organizations and their people are shooting people based on the color of their skin. We're not. We definitely will defend ourselves, but we're not out here to start any problems."
But just because Reed and the other protesters said they weren't going to stir up trouble doesn't mean onlookers will see it the same way.
"That's a bold statement," Houston resident Quintina Richardson told the Chronicle. "You come into their home, front door, and say 'hey!' You've got some nerve."
"The Confederate flag throws me off," she added. "You're saying Black Lives Matter is a racist organization but when you're throwing the Confederate flag up and saying White Lives Matter, are you saying you're racist?"
Police eventually arrived and set up barricades around the White Lives Matter group. It wasn't long before counter-protesters showed up and "dwarfed" the 20-odd protesters, according to the Washington Post. By 3:30 p.m., police started clearing the protesters off the block. 
The protest comes during a time of high tension in Texas and the country as a whole. In July, Houston police shot and killed a black man who officers said had pointed a gun at them. Around the same time, five police officers were shot and killed by a gunman during a Black Lives Matter protest — a "payback" response to the recent police shootings that left Philando Castile of Minnesota and Alton Sterling of Baton Rouge dead.
Still, it didn't sound as though Reed, the White Lives Matter protester, really understood the irony of carrying assault rifles in a black neighborhood and saying that white lives should matter. After all, the actions he said he's protesting are the result of white police officers shooting and killing black men.
"We expect every race to be proud of who they are," Reed said to Houston's Fox 26. "We're out there fighting for our rights just like everyone should."
It didn't take long for folks on Twitter to explain the absurdity to him.
Hopefully Reed is a Twitter user; if he searches for "White Lives Matter," he just might learn a thing or two.