14 photos show the remarkable Kurdish women in little-known militias who are fighting ISIS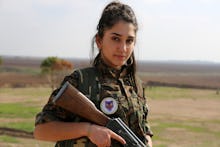 "I miss Limar and Gabriella and worry that they must be hungry, thirsty and cold — but I try to tell them I'm fighting to protect their future," Babylonia, in her mid-thirties, told Agence France-Presse in 2015.
Babylonia speaks of her children, whom she left — along with her husband and hairdressing career — to join a women's militia in northeast Syria with the mission of defeating ISIS, also known as Islamic State or Daesh.
Long before the United States announced its plans in 2015 to allow women into combat roles, men and women Kurdish were fighting alongside each other.
There are minority Syriac Christians and another force known as the YPJ — the sister group to the mainstream Kurdish, all-male YPG militia — which are composed solely of women. 
The women fighters have been part of a crucial initiative to protect the Tishrin Dam, for example. The dam is strategic as it is an energy source for the heavily contested town of Kobane in northern Syria, Al Jazeera reported in May.
The women not only subvert gender stereotypes, but also seek to protect the liberties afforded to them, which they would not have living in ISIS-controlled areas. 
"I used to work for a Syriac cultural association, but now I take pleasure in working in the military field," Thabirta Samir, in her mid-twenties, told AFP.
"I'm not afraid of Daesh, and we will be present in the coming battles against the terrorists," she added.