Muslim man starts hunger strike after prison serves him pork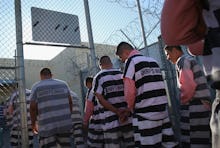 An observant Muslim man being held in prison in Japan was accidentally served pork in August, and now he's on a hunger strike.  
The 48-year-old man was served a hot meal with ham on August 3 in a detention center in Yokohama, Japan, Rocket News 24 noted. Observant Muslims do not eat pork for religious reasons, and the man, who is being detained for undisclosed reasons, has decided to go on a hunger strike because of the ham mishap. According to prison representatives, the hunger strike won't put his health at significant risk, as he's consuming water and nutrition supplements. 
The Yokohama detention center has mishandled inmate meals before. In August 2015, another Muslim man was served a salad with bacon in it, Japan Times reported.
"Such a mistake is something that should not take place," an official said at the time, Japan Times noted. "We will try to avoid a recurrence." It happened again a year later. 
Prison food is a matter of human rights, and Japanese prisons are required to accommodate religion-based dietary restrictions. According to the Japan Federation of Bar Associations, prisons must serve observant Muslims halal meat. They must also serve observant Hindus meals without beef. 
If an inmate declares that he/she is Muslim, the prison will not serve him/her any pork, and should serve him/her halal canned food for meat. If an inmate declares that he/she is Hindu, the prison will not serve him/her any beef. 
In the U.S., federal prisons don't serve pork. Bacon, ham and other pig products were off the table starting in October 2015, after inmates consistently rated pork products as the worst-tasting prison foods, the Washington Post reported. It's hard to imagine bacon tasting badly — then again, the prison meals in these photos from the Marshall Project look only slightly more appetizing than dog food.
But they don't accommodate every special diet, either. 
U.S. prisons do not typically accommodate vegetarians and vegans, the ACLU noted. But some vegan prisoners might luck out — San Francisco allegedly provides vegan meals, the Huffington Post reported. In a ranking of the most vegetarian-friendly prisons, PETA noted Idaho has the best state prison system. 
Planning to get arrested? Head to San Francisco or Idaho, or you know, just don't break the law.