These Irish women livetweeted their abortions to protest their country's anti-choice laws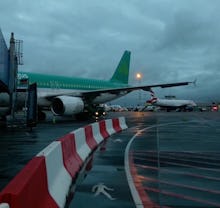 Abortion is heavily restricted in Ireland — which means that Irish people who want to terminate their pregnancies have to leave the country and jump through numerous hoops to have the procedure. 
Last weekend, a bold pair of Irish women sought to highlight the difficulties of getting an abortion by livetweeting their journeys to the United Kingdom to terminate their pregnancies. 
The nameless travelers, who tweeted under the name @TwoWomenTravel, sought to demonstrate that even for those with the financial means to get abortions outside the country, traveling to get an abortion isn't anyone's idea of a pleasant day trip. 
The procedure is illegal in Ireland except in certain circumstances, such as if the birth endangers the life of the mother. According to statistics by the U.K. Health Department, thousands of Irish women travel to the U.K. every year to access safe abortion services. More than 3,451 Irish women made the journey in 2015 alone. 
The United Nations human rights committee has called Ireland's restrictions a violation of human rights. And according to a global survey of abortion policies by the Pew Research Center, Ireland has some of the most restrictive abortion laws in the world. 
This weekend, the traveling women tagged Irish Prime Minister Enda Kenny in many of their tweets so he could see how Ireland's abortion restrictions impact Irish people. 
In a conclusive statement, the traveling women wrote: "We defy the Irish government to ignore us and we defy our Taoiseach [prime minister] Enda Kenny to avoid this conversation. We have done this to bring to light the reality of our journey to our sisters, mothers, brothers, fathers, friends, colleagues and total strangers."
Although the nameless Irish women were careful to avoid sharing any personal details, many Twitter users demanded to know why they wanted to have abortions to begin with. Other trolls tried to shame them for the procedure. (Mic has reached out for comment and we will update if we hear back.)
Many Irish people quickly clapped back in support of the travelers, including singer Lisa Hannigan. Many of these supporters tweeted the hashtag #RepealThe8th, a reference to Ireland's eighth constitutional amendment, which restricts abortion. 
Although the Irish prime minister has yet to respond on Twitter, Ireland's Health Minister Simon Harris tweeted his thanks to the anonymous women for sharing the "reality which faces many."