Mislabeled pill bottles found in Prince's home contained fentanyl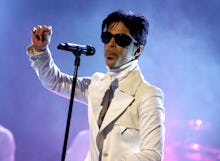 Pills marked as hydrocodone but containing fentanyl — the drug that killed Prince — were seized from Prince's Paisley Park compound, according to a source for the Minneapolis Star Tribune.
Fentanyl is a synthetic opioid sometimes said to be 100 times stronger than morphine. It was found in Prince's system in an amount that would've killed anyone, according to an anonymous source, even someone substantially larger than the then-112-pound artist, who was found dead in an elevator of his Minnesota compound on April 21.
An autopsy report the Midwest Medical Examiner's Office released in June said he died from an accidental fentanyl overdose. According to the Tribune source, Prince didn't have a prescription for fentanyl.
According to the Associated Press, an Aleve pill bottle found at the compound contained almost two dozen pills marked "Watson 385," a stamp for a pill that contains acetaminophen and hydrocodone. But according to an anonymous investigator, at least one of those pills contained fentanyl. Another seized aspirin bottle contained over 60 pills, some of which contained more mislabeled substances like lidocaine and U-4770, a powerful synthetic drug, according to the AP.
Examiners still don't know how Prince took such a toxic dose of fentanyl, but now they think it's possible he took the powerful narcotic on accident. Recent cases of fentanyl-laced pain pills have caused overdose cases across the country, thanks to Chinese-sourced fentanyl winding up in counterfeit pills.
Both Minnesota and North Dakota incurred overdose deaths after fentanyl was mixed into heroin earlier in 2016, according to the Star Tribune. But the powerful agent ending up in pain pills has become a trend, a July report from the Drug Enforcement Administration said.
Prince was found dead at his compound the day before he was scheduled to meet a doctor who specializes in opioid addiction, the Tribune reported. A week earlier, an opioid overdose forced the artist's private plane to make an emergency landing in Moline, Illinois. 
There are still plenty of unanswered questions in the case of Prince's death. But a DEA spokesperson told the Tribune that they haven't assigned a time limit on the investigation, and that it will be "ongoing and will be thorough."