Bill Gates' net worth breaks a new record, topping $90 billion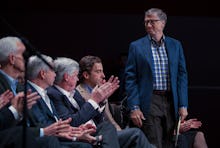 The size of the Bill Gates' fortune grew to a record $90 billion on Friday thanks in large part to his holdings in two companies, Canadian National Railway and Ecolab.
His fortune is now equal to 0.5% of the United States' total gross domestic product, and slightly larger than the entire GDP of Slovakia.
He is now far richer than the world's second richest man, Amancio Ortega, the Spanish founder of the retailer Zara, who is worth an estimated $76 billion, according to Forbes.
Gates has been the richest person in the world on-and-off since 1995 thanks in large part to his role in founding Microsoft. 
Now a majority of his fortune is held up his investment fund, Cascade Investment, which has been run by the same money manager since 1994. Because of Cascade's success, Gates can focus on his charitable giving. 
In 2010, Gates and fellow billionaire Warren Buffett started what's called "The Giving Pledge," a group of extremely affluent individuals who have vowed to give away a majority of their fortunes. 
Since launching the initiative, some 154 billionaires worldwide have joined the pledge, including Elon Musk, Larry Ellison, and Sheryl Sandberg.