People are freaking out over these selfies of Usain Bolt cuddling with Rio student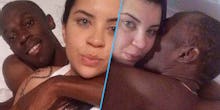 The 2016 Olympic Games in Rio may have come to a formal close this weekend, but the 2016 Drama Olympics — in which we've already seen a weird robbery fabrication and a synchronized diving sex scandal — continue. 
This round comes courtesy of fastest man alive Usain Bolt, who was recently pictured in a pair of incriminating selfies on WhatsApp with a woman who is definitely not his girlfriend. 
Brazilian website Globo reported that the woman in the pictures is Brazilian student Jady Duarte, who told the website that she is "dying of shame" at the viral response the pics have gotten thus far.
Bolt and Duarte reportedly met at a club in Rio while Bolt was celebrating his 30th birthday (and also presumably the various gold medals he snagged while in town). Duarte told Globo she had only meant to share the in-bed selfie with a few close girlfriends on WhatsApp, but then it was leaked to local media. (For what it's worth, though, she has since posted one of the pics to her own Instagram.)
Since the photos hit social media, Duarte has been roundly shamed on Twitter, with some tweets describing her as an "escort" and a "hooker." (Duarte told Globo that this is not the case, and that no money exchanged between hands during her encounter with Bolt.) 
In response to such shaming, her latest Instagram post features her defiantly flashing her middle finger, with a caption that translates to "good night to all those calling me a gold digger."
The photos are causing a stir because Bolt reportedly has a serious girlfriend at home. Her name is Kasi Bennett, and People describes her as a "26-year-old fashionista" and "brunette beauty from the Jamaican town of Old Harbour."
Bennett hasn't commented directly on this whole thing, but her Twitter timeline seems to be chill AF over the past 24 hours. 
No one knows for sure what happened between Bolt or Duarte, or if Bennett is even fazed by the allegations of infidelity in the first place. One thing, however, is clear: calling a girl who's in a cozy selfie with a guy with a girlfriend a "hooker," instead of dragging the guy who appears to have cheated on his girlfriend in the first place, doesn't make a whole lot of sense. 
Correction: Aug. 22, 2016