Obama congratulated Simone Biles' 2016 Olympic performance in the sweetest way on Twitter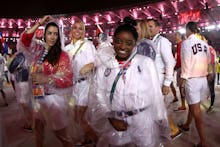 Simone Biles was a shining star of the 2016 Summer Olympic Games in Rio de Janeiro.
With her four Olympic gold medals, and as the American flag bearer in the closing ceremony, she caught the eye of President Barack Obama.
Biles, starstruck by Obama's shoutout, gave quite a patriotic response:
The 19-year-old dominated the gymnastics events at the Olympics. Biles won four gold medals in the women's individual all-around event, team all-around, vault and floor exercise, and she won the bronze medal in the balance beam.