Sorry, Lady Gaga. OutKast are the real unsung style heroes of the MTV VMA red carpet.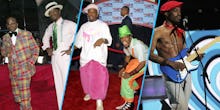 Sure, Lady Gaga has showed up to the MTV Video Music Awards wearing a dress made of meat. Sure, Amber Rose has showed up wearing a jumpsuit covered in slurs. And sure, Lil' Kim has showed up with her breast out. 
Though all of those looks are surely iconic, the real heroes of the MTV Video Music Awards red carpet are two rappers from Atlanta: Big Boi and André 3000, of the group OutKast. 
From their first appearance in 2001, the duo has worked to push the envelope of men's fashion, wearing angora ascots and sparkly shoes. One member has shown up shirtless and another has worn what may possibly be the largest pair of shorts in the history of the world. 
So, sorry Gaga and even Lil' Kim, but these are the real heroes of the VMA red carpet. Please, gaze upon their beauty. 
2001: What a time to be alive 
To their first-ever VMAs, OutKast showed up wearing the most OutKast ensembles imaginable — they looked like they walked into their closets and were like, "What two outfits will not go together at all? Let's wear that." As you'll see here, on the left, there's Big Boi, wearing a light pink angora ascot, with a long white T-shirt and beige and pink Nikes. 
And then, he paired all of that with what actually could be the largest, fluffiest pants mankind has even known. 
Like ... what is ... this? What are they? 
Then, there's André 3000, looking like if the jolly green giant mated with a lanky German man in the Alps. He is wearing what is effectively orange and green lederhosen, along with a matching green top hat and sparkly shoes (which is something we do approve of). 
The two do not match in any way, and yet it works. They're doing exactly what the VMA red carpet was meant for: wearing quite literally anything you fucking want. 
2002: OutKast wears hats while looking sad 
To the 2002 Video Music Awards, Big Boi and André 3000 showed up looking really sad, but also stylish. 
First, look at André 3000 pairing a white T-shirt with a mesh tank top, plaid pants and a baby blue cloche. He looks perturbed, probably thinking about his beloved green and orange lederhosen. 
Then, look at Big Boi, in a pale cream suit, with an extremely large tie and an unflattering homburg as well. He looks annoyed, probably thinking about his baby pink angora ascot hat. 
It's a notable downgrade from 2001, but that's probably because their agents told them to cut the shit and dress like they're on a red carpet for a music video awards show and not MuppetCon.
2003: OK. You know what? OK. 
To the 2003 show, Outkast stepped their game up. No, they definitely didn't match, but they were both (dare we say it) quite debonair while also showing off their individual style. 
Big Boi showed up in a plaid suit right out of the 1970s, wearing an oversized black bowtie with green crocodile shoes. Over on André 3000 though, it was all about 1940s slickness, with 3000 wearing a pink shirt and pants with pastel suspenders, a large green tie and a straw hat. 
They looked good! 
In early 2004, Outkast gets back to their green and orange roots 
For the MTV Video Music Awards Japan, Big Boi and André 3000 went back to loving fuzziness — and the colors green and orange. 
Big Boi, for example, wore a bright orange jacket, shirt and fuzzy ascot, à la 2001. Meanwhile, André 3000 wore a green jumpsuit that made him look like a skeleton.
And later in 2004, they get dapper again 
To the 2004 MTV Video Music Awards, Big Boi and André 3000 arrived looking more or less like they always do. Big Boi was in a full suit, and 3000 came in a polo, with a vest on top and then an ascot tucked under his chin. 
But then, for their performance of their hit song "Hey Ya," André 3000 turned into the André 3000 we all know and love, stripping down from looking like a young politico (they were promoting voting with their performance) into a suave and shirtless poet, wearing a red beret and scarf. 
It was, well, yeah ... You can be the judge. 
It's pretty fitting that this is the last we saw of OutKast, what with André 3000 shirtless and all. Over the course of five different shows, OutKast was able to completely transform themselves, from this ...
... to this. 
With all this evidence at hand, it's safe to say that they're the real unsung heroes of the MTV VMA red carpet.