Marvel's black, female Iron Man will be named Ironheart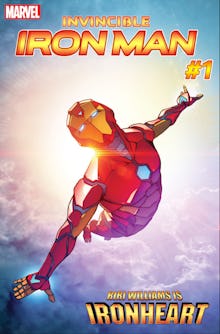 Riri Williams, the comic book character who will assume the next incarnation of Iron Man, now has her own superhero name. Williams, a 15-year-old black prodigy teenager and apprentice to Tony Stark, will be called Ironheart in her new comic book series. 
In an interview with Wired, writer Brian Michael Bendis said the character needed a new name — and the creative team didn't want to go the obvious route of "Iron Woman." Instead, at the suggestion of Joe Quesada, Marvel's editor-in-chief, they chose "Ironheart." 
"Iron Maiden looked like a legal nightmare," Bendis said, in reference to the '70s metal band. "And Ironheart, coined by Joe Quesada, after I told him my planned story for Riri, speaks not only to the soul of the character but to the Iron Man franchise as a whole. Tony first put on the armor to save his heart. Riri puts it on for different reasons altogether, but [her reasons are] still heart-related."
Williams was officially revealed in July as the successor to Stark, coming at the end of Marvel's Civil War II series. When asked by Time about the decision to make the next incarnation of the superhero a black woman, Bendis said there was "an audience crawling through the desert looking for an oasis when it came to representation."
"When people see her story, you'll be amazed at how simple and brilliant Joe's suggestion was," Bendis said of the name Ironheart. 
Williams' comic book series, Invincible Iron Man, will debut in November.