Tropical Storm Harambe? Sadly, the National Hurricane Center won't rename the next storm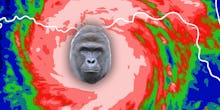 What better way to honor a dead gorilla than a deadly storm?
A Change.org petition is calling for the NHC to rename Tropical Storm Hermine to Harambe because the former "sounds terrible, and is disrespectful to the great Harambe," the petition notes. "To honor Harambe, a renaming is required to continue his legacy." 
For the uninitiated (seriously?), Harambe was a gorilla shot and killed in May at the Cincinnati Zoo to save a 4-year-old boy that fell into the animal's enclosure. Harambe's death precipitated a public outcry on questionable parenting, the popular "dicks out for Harambe" meme and even a spike in Harambe porn searches. 
The Harambe obsession has become so intense, the Zoo recently issued an email to the Associated Press saying that it is "not amused." 
"Our zoo family is still healing, and the constant mention of Harambe makes moving forward more difficult for us," it said. 
Lucky for the Cincinnati Zoo, it won't have to hear about Tropical Storm Harambe heading for the eastern seaboard. The petition for the name change is extremely futile. 
"In general, tropical cyclone names are removed from the list only when a storm is unusually deadly or costly," Chief of Forecast Operations at the National Hurricane Center James L. Franklin said in an email. 
"Every once in a long while," he continued, "a name might be removed due to some other sensitivity (for example, 'Isis' was recently removed from the eastern Pacific list). I'm unaware of a name ever being removed, however, for no reason other than to make room to honor some particular individual, and I think it's unlikely that the WMO RA-IV would initiate such a policy." 
The World Meteorological Organization Regional Association IV is responsible for naming Atlantic and eastern North Pacific tropical storms and hurricanes — each country in the region has a single vote within this committee, Franklin said. The group meets once a year in the spring, meaning it wouldn't have time to consider this Change.org request until next spring.
"Therefore, 'Hermine' will be assigned when that position in the list comes up later this year," Franklin said. When asked if people petition for changed names in honor of the deceased often, he said, "No, I've never seen a request like this in the past." 
"I've never seen a request like this in the past." 
Franklin thinks that the WMO's current policy of only replacing names if they are "unusually destructive or deadly" is a good one.
He believes that if the organization were to open up the naming system to the public as a form of recognition, they'd "undoubtedly" get a lot of requests, which would then need to be evaluated and weighed against one another, requiring a new fair and reasonable process to do so.
Clicks out for Harambe: If you're one of the 654 online signatures pledging support for Tropical Storm Harambe, consider the NHC. And consider that the animal's legacy doesn't need to be immortalized by a destructive force of nature — that's what the internet is for.