David Becker charged with sexually assaulting 2 women, only gets 2 years' probation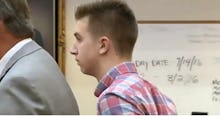 David Becker, 18, allegedly sexually assaulted two women while they were asleep. He was charged with two counts of rape and one count of indecent assault and battery, but he will not serve any jail time. Instead, a judge ordered him to two years of probation — and if he doesn't violate its terms, no conviction will ever appear on his record.
"He can now look forward to a productive life without being burdened with the stigma of having to register as a sex offender," Becker's attorney, Thomas Rooke, told MassLive. "The goal of this sentence was not to impede this individual from graduating high school and to go onto the next step of his life, which is a college experience."
Hampden County Assistant District Attorney Eileen Sears reportedly asked for a two-year prison sentence. Instead, Becker will have to stay away from drugs and alcohol for two years, undergo an evaluation for sex offender treatment and keep his distance from the two women he assaulted. As long as he does these things, not only will he avoid conviction, he also won't have to register as a sex offender.
Becker was a three-sport athlete at East Longmeadow High School in Massachusetts and had planned to attend the University of Dayton in Ohio, but as the school told MassLive, he won't be starting school there in the fall. He will, however, be allowed to live in Ohio during his two-year probation period. 
Becker allegedly raped two of his classmates following a house party on April 2. The women had been drinking, and stayed after the party was over to help the host clean up. Along with Becker, they went upstairs to sleep; they each awoke to Becker penetrating them with a finger. 
According to MassLive, one of the victims said this wasn't exactly new behavior for him. Because he's done this kind of thing to other girls in the past, she said, some of his classmates call him "David the Rapist." Rooke deemed that nickname an "unjust character assassination."
"We all made mistakes when we were 17, 18, 19 years old, and we shouldn't be branded for life with a felony offense and branded a sex offender," Rooke told MassLive. "Putting this kid in jail for two years would have destroyed this kid's life."
Many have identified injustice in the facts that he likely won't have to register as a sex offender; that the judge prioritized his wellbeing over his victims'; and that young white men who sexually assault women keep getting light sentences, even when they're convicted.
One recent example is the case of Austin Wilkerson, a former student at the University of Colorado, Boulder, who took advantage of the fact that a woman was intoxicated and raped her while she was half-conscious. Wilkerson was convicted, but won't be going to prison because the judge wasn't confident that time behind bars would lead to "any great result for anybody."
Then there's the Brock Turner case, in which the former Stanford swimmer sexually assaulted an unconscious woman behind a dumpster, seemingly with intent to rape her. Two witnesses chased him off, and Turner was convicted of sexual assault — but sentenced to six months in jail, three of which he's likely to serve. The judge, Aaron Persky, recommended that the suggested six-year sentence be scaled back, because prison would have a "severe impact" on the promising young athlete.
Wth Becker as with Turner, making an impact — sending a message that says rape is wrong — should, in fact, be the point.