A North Carolina police officer fatally shot Daniel Harris, a deaf man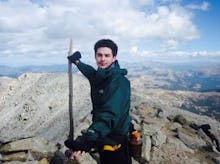 North Carolina state trooper Jermaine Saunders fatally shot 29-year-old Daniel Harris, a deaf man, on Thursday night after reportedly attempting to pull him over for speeding.
According to local news station WCNC, authorities say they pursued Harris — who couldn't have heard the police vehicle's sirens — but he'd continued driving home. Harris' neighbors report hearing gunshots just moments after seeing Saunders' patrol car pull up.
"I was here in my driveway and I saw the highway patrol car come through and it was smoking really bad," neighbor Mark Barringer told WCNC. "About 10 seconds later, I heard one gunshot."
Detectives say there was an "encounter" between Saunders and Harris before Saunders fired his weapon; neighbors say Harris was probably attempting to communicate with Saunders using sign language. 
Harris' family has launched an online fundraiser to cover the costs of his memorial and cremation. According to the page, any leftover funds will go toward creating a foundation in Harris' name to "educate and provide law enforcement proper training on how to confront deaf people." 
The family hopes to establish a rule requiring states to tag the cars of the hearing impaired with the word "DEAF" so that it appears when officers look up a car's license plate.
"They should've deescalated and been trained to realize that this is an entirely different situation, you're pulling someone over who is deaf, they are handicapped," Barringer told WCNC. 
"To me, what happened is totally unacceptable."