Newly discovered Hillary Clinton emails suggest aide granted access to foundation donors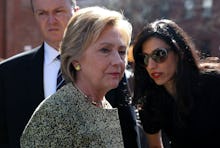 A new batch of emails released Monday show Hillary Clinton aide Huma Abedin set up meetings between Clinton and heavy donors to the Clinton Foundation while both women served at the State Department.
The documents show "Abedin provided expedited, direct access to Clinton for donors who had contributed from $25,000 to $10 million to the Clinton Foundation," said Judicial Watch, a conservative group fighting to obtain emails routed through Clinton's home server while she was the nation's top diplomat.
The Democratic presidential nominee has been dogged by questions about both the private server and about whether Foundation donors got special consideration from her State Department.
In one case, Judicial Watch said based on the new emails, when "Crown Prince Salman of Bahrain requested a meeting with Secretary of State Clinton, he was forced to go through the Clinton Foundation for an appointment" after Clinton would not agree to a meeting via official channels.
In correspondence with Abedin, Douglas Band, a longtime aide to President Bill Clinton, described Salman as a "good friend of ours." The Kingdom of Bahrain is listed as having given up to $100,000 to the Foundation through June.
The requests occasionally bore no relation to foreign policy and national security.
The 725-page document Judicial Watch shared Monday also detailed how Band, at the urging of Foundation mega-donor Casey Wasserman, asked Abedin to help out with visas for visiting members of the U.K.'s Wolverhampton Football Club. Abedin replied that the request made her "nervous."
FBI Director James Comey said last month that no criminal charges would be recommended against Clinton regarding the server, although he chastised her for her "extremely careless" handling of sensitive information.
Monday, Clinton campaign spokesman Josh Schwerin brushed off the Judicial Watch report as a baseless attack from a "right-wing" organization.
Amid the flurry of attacks, however, the Clinton Foundation has said it will stop accepting foreign donations if the former secretary of state becomes president.
But it's all still political fodder for Clinton rival Donald Trump.
Earlier Monday, before the Judicial Watch release, the Republican presidential nominee hit Facebook with a statement calling for the shutdown of the Foundation.
"It is now clear that the Clinton Foundation is the most corrupt enterprise in political history. What they were doing during Crooked Hillary's time as Secretary of State was wrong then, and it is wrong now," Trump wrote.
The Clinton campaign's John Podesta lashed back, saying Trump should release his tax returns and "commit to fully divesting himself from all of his business conflicts to ensure that he is not letting his own financial interests affect decisions made by his potential administration."