Here's what we hope new Stanford professor Tyra Banks will cover in her course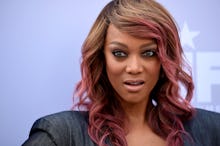 In a very important course catalog update, the Wall Street Journal reported last week that supermodel and supermodel mentor Tyra Banks will swing by Stanford University next spring to instruct MBA students in a two-week course on "creating and protecting a personal brand." 
According to WSJ, Banks said her lecture style will be "engaging and fun." With that in mind, here are some very important topics that we hope Professor Tyra Banks has factored into her Stanford syllabus.
The importance of Vaseline
If you know anything about Tyra Banks, it's that Vaseline is of the utmost importance to her — so much so that she once handed out bedazzled tubs of Vaseline to a screaming studio audience of women on The Tyra Banks Show who were losing their shit over it as she yelled, "Your wildest dreams have come true!" 
Why is the little jar of petroleum jelly her best beauty secret ever? Hopefully all will be revealed by Professor Tyra before the final exam.
How to "smize"
Smizing, or "smiling with your eyes" — a signature Tyra Banks move — should definitely be covered in class. Because, while we've watched countless "cycles" of aspiring top models learn to smize, we still aren't sure what the difference is between smizing and squinting.
Who was rooting for Tiffany
We can only assume that this class will be split into two lessons: 
1. "I was rooting for you." 
and 
2. "We were all rooting for you."
Fashion modeling fundamentals
We can only assume that Professor Tyra will discuss personal branding through the lens of her own industry, which is fashion — in which case she'll undoubtedly have to offer students a quick primer on the basics of modeling, which is, "being a hoe, but make it fashion."
Who should go home: the girl who has all the talent in the world but doesn't seem it want it, or the girl who's willing to give everything but may not have what it takes?
Only Professor TyTy knows the answer to this one.