Wells Fargo gets fined for overcharging customers on their student loan payments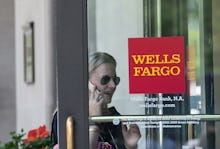 Good news for the 41 million Americans with student debt: At least a few of you might be getting a refund. 
Wells Fargo, the "earth's most valuable bank" as of last year, has to refund more than $400,000 in late fees it illegally charged to borrowers in its student loan business, the federal Consumer Financial Protection Bureau announced on Monday. 
In addition, Wells Fargo will have to pay a $3.6 million civil penalty.
"Thousands of consumers across the country were affected" by Wells Fargo's practices, a CFPB spokeswoman said in an email to Mic. 
In a statement, a spokesman for Wells Fargo said that "today's consent order with the CFPB resolves three areas of concern cited by the Bureau related to legacy payment procedures that were retired or improved many years ago, and addresses the impact to a small number of customers."
The CFPB found several issues with Wells Fargo's student loan business, many of them relating to misleading language about partial payments which had the effect of maximizing late fees.
Wells Fargo also charged late fees to borrowers who paid on the last day of their grace periods, and neglected to inform credit reporting agencies about partial and over-payments, two things which can increase your borrowing costs by reducing your credit, the CFPB said. 
A spokeswoman for the CFPB confirmed that Wells Fargo will contact you if you're eligible for a refund, and that any customers with questions should reach out to the bank. 
If you're unsatisfied with the bank's response, you can always fill out a complaint on the CFPB's website.