A Donald Trump field office in Colorado is being managed by a 12-year-old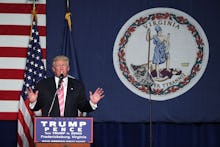 In today's entry in Trump meltdowns, a Denver-area station reported Donald Trump's presidential campaign is relying on a 12-year-old to organize its field efforts in an important part of Colorado.
"In one of the most important elections of our lifetime, in one of the most important counties in the state, the Donald Trump campaign is relying on 12-year-old Weston Imer" as its field coordinator, KDVR's Joe St. George reported on Friday.
Imer is apparently calling many of the shots in Colorado's Jefferson County Trump campaign — one ostensibly responsible for running events and get-out-the-vote operations in for a region that includes part of metro Denver and over half a million inhabitants.
Colorado, of course, is a crucial swing state where Democratic nominee Hillary Clinton is winning.
But the 12-year-old Imer may have taken after the big man, according to the Guardian, which reported an unidentified "12-year-old" in Colorado had made bullying phone calls to state GOP delegates planning on not supporting Trump.
Imer isn't the person officially tasked with the job. But the official field coordinator, his mother Laurel Imer, told CNN her son is performing the job because "you have a responsibility to your children to teach them."
By later in the day, team Trump denied rumors of their tween kingpin.
Colorado co-chair Robert Blaha told ABC News the whole thing was a misunderstanding, and Imer is not actually calling the shots because "there's not the possibility a 12-year-old can run an office." He added the campaign does, however, deploy Imer at rallies and for voter engagement purposes.
According to CNN, Imer has "appeared twice on stage" for events pegged to appearances by Trump and his running mate, Indiana Gov. Mike Pence.
Trump trails Clinton heavily in the polls in Colorado, according to an average kept by Real Clear Politics, which found the Democrat holds a lead of 10.8% in polls taken since early June.