Trump hints his supporters should do 'you know what' on Election Day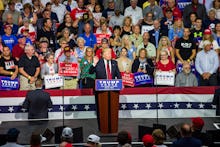 On Monday night, at a rally for Republican presidential nominee Donald Trump in Akron, Ohio, the candidate pushed his recent insistence his campaign can only be defeated via "voter fraud" to a new extreme, reported Toronto Star correspondent Daniel Dale.
Trump essentially ordered his supporters to turn vigilante poll watchers on Election Day, saying, "You've got to get every one of your friends, you've got to get every one of your family, you've got to get everybody to go out and watch. And go out and vote."
"And when I say 'watch,' you know what I'm talking about, right?" the candidate added, implicitly suggesting he didn't mean watching at all. "You know what I'm talking about. You've got to go out and you've got to watch."
While Trump's allusion to what he was really "talking about" was vague, they come just days after the candidate used similarly vague phrasing to suggest "Second Amendment people" could "do" something about Democratic nominee Hillary Clinton in comments widely interpreted as a thinly veiled nod to a theoretical assassination.
In this case, the thinly veiled implication seems to be that Trump's supporters could somehow control access to the polls — ominous given the endemic and often racially loaded violence exhibited at some of his rallies, as well as the candidate's seemingly flippant or encouraging attitude towards that violence. Voter intimidation is also highly illegal.
As even conservative website Red State argued in June, evidence Trump's violent rhetoric is tied to actual violence by some of his supporters is overwhelming.
The idea is not entirely new to Trump's handbook; MTV reported last week Trump had begun advocating for law enforcement presence at the polls and "go around and look and watch other polling places," as well as created a "Trump Election Observer" page on his website. 
"In-person" voting fraud is actually very rare, according to a recent Associated Press fact check. However, the Republican Party has backed numerous new restrictions on voting rights in recent years largely based on the argument such fraud is rampant and being ignored. Trump has also begun speaking of "voter fraud" in "increasingly urgent and racially suggestive language," according to the New York Times, including by pointing to specific cities with large black populations.
Now Trump is hinting at more than watching, and certainly not for the authorities to be the ones doing it. 
The Donald Trump campaign did not respond to a request for comment on this story.
August 23, 2016, 3:03 p.m.: This story has been updated.