Who has rocked the MTV VMA red carpet better: Beyoncé or Rihanna?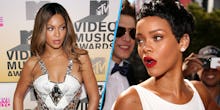 In the music world, Beyoncé and Rihanna are like the sun and the moon: two figures that are of equal influence and power. 
Whether based on music or Instagram presence, both of these women are at the top of their game, with more than 300 million albums sold worldwide between the two of them and a combined Instagram following of more than 125 million. 
When it comes to style, the two are both forces to be reckoned with. They've both been deemed fashion icons at the CFDA Awards, and they have both produced their own clothing lines. Plus, both of these women have carved out an incredibly unique style of their own, with Rihanna able to turn wine glasses into an accessory and Beyoncé able to make sweatpants look sexy as hell. 
Given that the 2016 MTV Video Music Awards are on Sunday, we decided to compare and contrast each woman's red carpet appearances at the VMAs side-by-side, starting with their first solo appearances on the red carpet and ending with their latest. 
May the most stylish woman win. 
First appearance: Beyoncé in 2003 vs. Rihanna in 2005 
These pictures mark the first time both of these women flew solo down the VMA red carpet. Previously, of course, Beyoncé had walked with her Destiny's Child bandmates (and that made for some great red carpet moments too), but here she is standing in head-to-toe glitter in 2003, the year we would all be graced with her debut solo album Dangerously in Love. One major question we have for her though: What highlighter are you using, B?
Now, if you'll look at Rihanna at her very first VMAs, she looks more like a young woman trouncing around a mall with her friends: the belly chain, the shrunken sweater, the hoops, the swooped bangs. 
Guess we'll have to give this one to Beyoncé. 
Score: Beyoncé - 1, Rihanna - 0 
Second appearance: Beyoncé in 2004 vs. Rihanna at the VMAs Japan in 2006 
OK, we hate to do this Beyoncé, but, uh, what the fuck? There's really no beginning with her outfit to the 2004 VMAs: the hair, the bronzer, the collar, that goddamn gold lame jacket and short set? Girl? You, OK?
While we're still processing that, let's move over to Rihanna's look at the 2006 MTV VMAs Japan. She looks sweet! Young! Nearly unrecognizable! So, by default, we gotta give this one to RiRi. 
Score: Beyoncé - 1, Rihanna - 1
Third appearance: Beyoncé in 2005 vs. Rihanna in 2006 
This is how we feel about Beyoncé's look at the 2005 VMAs: 
She looks like the product of an angel, a goddess and a queen all having one angel baby. She is light. She is glowing. She is shine. She is everything. 
Now, OK, look over at Rihanna: Yet again, let's say she looks cute. She's in her Ariana Grande phase here, so there's a lot of sparkle and short satin dresses. There is nothing technically wrong with this look at all, and her makeup's on-point. But still, we can't deny what Beyoncé was serving in 2005 and that she deserves this point. 
Score: Beyoncé - 2, Rihanna - 1
Fourth appearance: Beyoncé in 2006 vs. Rihanna in 2007 
At the 2006 VMAs, during which Beyoncé would bless us all with her "Ring the Alarm" performance that had her dancing around in a trench coat surrounded by flames, Bey wore a jewel-encrusted white satin dress and it was... fine. Just fine. 
At the 2007 VMAs, on the other hand, during which Rihanna would bless us all with a performance of "Umbrella," she wore a hot pink, sleeveless satin gown that made her look like a cross between Rita Hayworth and a comic book character. It worked big time, so this one goes to Rihanna. 
Score: Beyoncé - 2, Rihanna - 2 
Fifth appearance: Beyoncé in 2007 vs. Rihanna in 2008 
We guess these two women decided they would look pretty boring for their fifth appearances at the VMAs. In 2007, Beyoncé wore this gold grecian number by Reem Acra that was admittedly really flattering, but still kinda... eh. 
In 2008, Rihanna wore this strapless dress that kind of looks like it was made on Project Runway. Also, white heels? No. 
By a hair and a pair of white heels, we have to give this one to Beyoncé. 
Score: Beyoncé - 3, Rihanna - 2 
Sixth appearance: Beyoncé in 2009 vs. Rihanna in 2010 
You may recognize Beyoncé in this look: This is from the VMAs when Kanye West stormed the stage, and then Beyoncé took it upon herself to give the stage to a fan who just happens to play music. 
Anywho, this look is pretty unproblematic in that it was designed by Roberto Cavalli and fits her body quite nicely. She also looks great in red. If anything, it's just a bit boring. 
Meanwhile, Rihanna during her sixth appearance at the VMAs didn't have a red carpet moment because she opened the show with a performance with Eminem. As far as what she wore, though, she actually looked cool — like a 19-year-old who's just sifted through a dress-up box at her local Party City store. It's all very Courtney Love and not boring, so we dig it and think she deserves this point. 
Score: Beyoncé - 3, Rihanna - 3
Seventh appearance: Beyoncé in 2011 vs. Rihanna in 2012 
What a time to be alive, right? Of course, this is the show during which Beyoncé revealed her baby bump, and the fact that she would be giving birth to the future leader of the free world. She wore a one-shouldered Lanvin dress and effectively sent the world into cardiac arrest. 
For her seventh appearance at the VMAs, Rihanna's look can be encapsulated by the following: yes. Yes. Yes. Yes. Yes. 
There's only one word: reinvention. Just look at what Rihanna wore to the 2010 VMAs and then look at what she wore to the 2012 show. It was a stunning image overhaul that turned her into our generation's Billie Holiday. Because of this makeover, we've got to give it up to RiRi. 
Score: Beyoncé - 3, Rihanna - 4 
Eighth appearance: Beyoncé in 2014 vs. Rihanna in 2013 
Again, we just... 
Both of these looks are so good, but let's start with Beyoncé, as usual. This was the show at which Beyoncé was awarded the Vanguard Award. She probably knew this because she showed up in a black, beaded, lace dress by Nicolas Jebran that looked like she was about to straight-up cast a spell on that stage, and that is honestly exactly what she did. 
Over with Rihanna, she managed to put together a look that said, "You fucking rang, bitch?" We love her for that. This was the show that would birth 1 million shade GIFs, and we are forever thankful. 
Due to the fact that we love both of them, we have to end this one in a tie. 
Final score: Beyoncé - 4, Rihanna - 4
To settle the score, we guess both of these immensely talented women will have to show up on Sunday night at the 2016 VMAs.