Gripping footage shows Iraqi police removing explosives from a child suicide bomber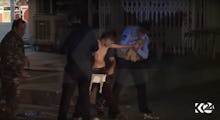 Footage of Iraqi law enforcement cutting an explosive belt from the body of a boy was released by television station Kurdistan 24. The boy was reportedly intending to carry out a suicide bombing Sunday night, targeting a Shiite mosque for the Islamic State group.
The incident took place in Kirkuk, Iraq. Footage shows the boy paralyzed in fear and in tears. Conflicting reports of his age range from 11 to 15 years old.
Authorities suspect the boy came from Mosul — an ISIS-controlled town also in northern Iraq — and was manipulated or forced into the attempted attack by the Sunni terrorist network. He reportedly arrived in Kirkuk a week prior.
"He was captured before he reached his destination, which was a Shia mosque," Kirkuk governor Najmaldin Karim said, CNN reported. "The security guards noticed there was something wrong, especially [given] that there was another suicide attack a bit earlier, and they captured him."
He was "trained and brainwashed," Karim said of the boy.
At the culmination of the footage, the boy can be seen aggressively handcuffed and pulled through a swarming crowd into a police van with a number of other men.
"The boy claimed during interrogation that he had been kidnapped by masked men who put the explosives on him and sent him to the area," Brig. Chato Fadhil Humadi, a local intelligence official, told the Associated Press.
Kirkuk has been home to numerous competing sectarian and ethnic interests, particularly regarding which faction or group should run the city. Large swaths of Iraq remain battlegrounds between ISIS and its various opposing forces, including the Iraqi government and Kurdish fighters. 
Footage of the incident can be seen here: