The Federal Reserve launched an awkward Facebook page and trolls are having a field day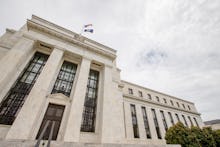 Turns out the beleaguered Cincinnati Zoo, once home to Harambe the gorilla, is not the only U.S. institution getting dragged on social media this week.
The Federal Reserve has also proven to be an irresistible target for trolls, as the central bank's social media directors learned the hard way after launching a new Facebook page last Thursday.
Founded in 1913, the Fed is tasked with keeping the American monetary system stable. In addition to its main job — influencing interest rates — the Fed has been increasing its social media footprint in recent years, now adding Facebook to a list of platforms that includes Twitter, LinkedIn and Flickr. Yes, Flickr.
It hasn't been going well.
Commenters have been inundating the Fed's Facebook page with negative feedback; one called members of the Fed board "currency-manipulating cucks,"  and got more than 580 likes.
One problem, as American Banker points out, is that the Fed seems to be using its page not for conversation, but as a landing spot for boilerplate public relations releases. In short, it's awkward, boring, and not very "social."
Another problem?
Few see the central bank as especially likable in the first place, as Frank Eliason, former head of social media for Citigroup, suggested to American Banker. 
"The Federal Reserve has often been viewed — rightly or wrongly — as representative of the [banking] industry," he said.
Presently, the Fed is one of only two banking government entities that have any Facebook presence at all: The other is the Consumer Financial Protection Agency, which has a better reputation as supportive of consumers, Eliason said.
The Fed's most recent Facebook post — an ostensibly uncontroversial educational map explaining the boundaries of the Fed's 12 major branches — went up around 10:50 AM on Tuesday morning and is already garnering scornful commentary. 
Some posts that have been up for a little longer have even more colorful comments, with positive remarks in short supply. 
Frequently, long Facebook threads such as these tend to devolve into partisan squabbling. But not on the Fed's Facebook page: Here it's just one big anti-government love-fest.
To be fair, knocks on the Fed aren't limited to Facebook: The bank also gets trolled on Twitter.
And it's not just the Fed. Companies and brands are always looking for new ways to reach out to the youths on new platforms — and there's no shortage of embarrassing incidents in which these efforts have gone astray.
Financial institutions in particular seem to have trouble when it comes to entering the scary world of social media.
For instance, a J.P Morgan "ask me anything" with one of its bankers was almost instantaneously halted after being deluged with questions like: "Did you have a specific number of people's lives you needed to ruin before you considered your business model a success?"
The Federal Reserve did not respond to a request for comment by press time.