Fox News says the feds are looking into Somali politician's marriages. The feds call B.S.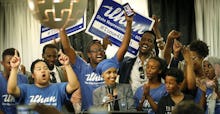 On Monday, Minnesota's Fox 9 News quietly took down an article claiming the U.S. Attorney's office called for an investigation into Ilhan Omar, the 33-year-old woman who recently won a Democratic primary for a seat in the Minnesota state legislature. The claim would be a big deal — if it were true.
Omar made headlines after beating longtime representative Phyllis Khan in the primary, making her likely to become the first Somali-American Muslim lawmaker come November's election. Shortly after her victory, a rightwing blog posted a story about Omar being married to two men at once, including a man the post claimed was Omar's brother.
Fox grabbed the post and ran with it. In the now-deleted article, Fox's Tom Lyden claimed that Andrew Luger, the U.S. Attorney for Minnesota, "asked the U.S. Immigration and Customs Enforcement to look into Ilhan Omar's marriages," according to City Pages. The Fox story was titled, "Feds looking into Ilhan Omar's marriages." City Pages posted an excerpt from Lyden's piece:
She may be relatively new to politics but Ilhan Omar has already mastered an invaluable skill: how to avoid a reporter's question.... But we aren't the only ones who still have questions about the two men the DFL-endorsed House candidate has called her husband, without divorcing either.
But Luger, after being contacted by Omar's attorney, Jean Brandl, quickly dispelled the rumor that his office had ordered an investigation — thereby proving Lyden's story wrong.
"[T]here is no truth to this report and my office is not investigating, nor have we requested an investigation into Ms. Omar," Luger wrote in a letter addressed to Brandl.
Fox proceeded to take down Lyden's article. Instead of issuing an apology, Lyden reinforced the claims of the deleted piece with a new post. He pointed out that Luger's letter addressed alleged investigations into Omar's immigration status — but that his original Fox article focused on the feds investigating Omar's marriages:
[T]he Fox 9 report did not address Omar's immigration status, but said [Immigration and Customs Enforcement] was investigating Omar's two separate marriages — one a religious ceremony in 2002 to her current husband and the father of her three children, and one civil in 2009 to a citizen of the United Kingdom.
Lyden seems to be missing the final point of Luger's letter: that "there is no truth to this report and my office is not investigating, nor have we requested an investigation into Ms. Omar." 
As for the marriages, Omar addressed them herself.
"I entered into a relationship with a British citizen, Ahmed Nur Said Elmi, and married him legally in 2009," Omar wrote on her campaign site. "Our relationship ended in 2011 and we divorced in our faith tradition. After that, he moved home to England. I have yet to legally divorce Ahmed Nur Said Elmi, but am in the process of doing so. Insinuations that Ahmed Nur Said Elmi is my brother are absurd and offensive."
Before marrying Said Elmi, Omar married Ahmed Hirsi, the father of her three children, in 2002. They divorced in accordance with Muslim faith tradition in 2008, but reconciled in 2011. According to Omar's statement, they remarried under that same faith tradition. 
As Mic's Sarah Harvard wrote, in Islam, when a couple wants to divorce, they need two witnesses — one of whom is usually an imam. The husband has to state "I divorce you" to his wife, either spoken or in writing. The statement indicates Omar and Said Elmi divorced in this tradition.
But the details of Omar's marital status shouldn't matter. The point is, Fox published a story, screwed it up and never apologized for the problems it caused.
"Fox 9 News must correct this outrageous error immediately," Minneapolis Democratic State Senator Scott Dibble said in a statement. "These false claims originated as a witch hunt by a harshly partisan online blog. The Fox 9 news report only serves to perpetuate a non-story and should be taken for what it is: rumor, innuendo and flat-out falsehoods."
Unfortunately, given the current climate of anti-Muslim rhetoric, it's no surprise a partisan publication has taken shots at the Minnesota House hopeful.