Facebook thinks autoplaying videos with sound on your phone may be a good idea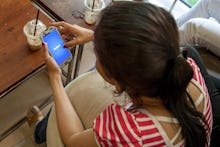 If silence is golden, Facebook's newsfeed videos will be rotting garbage for some. 
The social media overlord will be testing a new video autoplay feature beginning Tuesday for some Australians — as people scroll through the Facebook mobile app the sound on videos will automatically begin to play, according to Mashable. 
Not everyone will experience immediate sound if they have it enabled on their device — in the other iteration of the trial, a group will be able to turn the sound on by clicking on an icon in the bottom right of videos, according to Mashable. All users will get a pop-up message on how to use these new controls — and there is an "always off" option in Facebook settings. 
"We're running a small test in News Feed where people can choose whether they want to watch videos with sound on from the start," a Facebook spokesperson told Mic in an email. "For people in this test who do not want sound to play, they can switch it off in Settings or directly on the video itself."
"This is one of several tests we're running as we work to improve the video experience for people on Facebook," the spokesperson said.
An odd choice: This is a strange move for Facebook — as Digiday reported in May, 85% of videos are viewed on the platform without audio. But our video consumption habits may have changed with time —  a Facebook spokesperson said in an email that about 50% of time spent with video on Facebook over the past year is with the sound on, with 66% growth in the average daily video watch time per person. But according to research from Facebook, 80% of its users "react negatively" when video ads on the mobile app start to play loudly in their feed, Advertising Age reported. 
While this is just a test run, it marks Facebook's move to make sure the 41% of its videos that are "meaningless" without sound don't fall on deaf ears. 
Perhaps autoplay sound will begin and end with this test. And if all else fails, you can always turn off autoplay altogether.
August 24, 2016, 12:45 p.m.: This story has been updated.