iPhone 8 rumors: Will Apple unveil a curved display on its upcoming device?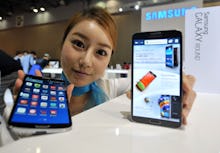 2017's rumored iPhone 8 may come in three models, including a "premium" phone with a curved OLED display a la Samsung's Galaxy line, according to a new report by Nikkei Asian Review.
The iPhone 7 release date is around the corner, but Apple fans are already talking about the next device. It's referred to as the iPhone 8, and the release is rumored to be timed with the iPhone's 10th anniversary, in 2017. The rumored features on the iPhone 8 (is it finally time for wireless charging?) suggest the 2017 line of iPhones will blow this year's out of the water.
As Mic reported in June, the iPhone 8 may replace the LCD screen with a flexible OLED display, which offers better contrast. There's been lots of buzz about this new screen: It may be an all-glass, wrap-around, edge-to-edge display with the Touch ID fingerprint sensor and front-facing camera built in. And now there's evidence the screen on the top-tier model will be curved.
Nikkei Asian Review breaks down the sizing: 
"There will be a 4.7-inch model, another that will be 5.5-inches and a premium handset that will be either 5.5 inches or larger equipped with a screen bent on the two sides," the source said, adding the first two will continue to have flat screens, like current Apple mobile devices.
That curved screen could be a game-changer for Apple, especially considering recent rumors that the iPhone 7 "Pro" model will no longer be part of the mid-September launch. The latest rumors indicate that the iPhone 7 Plus will have a dual-lens camera and new colors as its distinguishing features.
On the Samsung Galaxy Edge, it's a popular (but regrettably more expensive) feature. Business Insider praised the "sleek" and "subtle" look of the curved screen, saying it made the phone look thinner. Engadget reported it feels good in the hand, though it can get a little slippery. (Hey, so can the iPhone 6 and 6s.)
So, should you hold out for the iPhone 8 or splurge on the (probably less exciting) iPhone 7 when it comes out next month? If you're happy with your iPhone 6 or 6s, the 7 might not have the upgraded features you're looking for. But the 8 is looking more and more impressive.