Everything you need to know about jackfruit, one of Pinterest's trendiest foods of 2016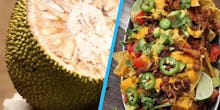 Forget about tofu, seitan and whatever meat substitute you've sworn by during your vegetarian years. It's jackfruit's turn in the spotlight. 
Grown on the world's largest fruit trees — jackfruit trees can reach up to 50 feet and can weigh up to 100 pounds! — this savory, stringy fruit is pretty much as versatile as soy. 
Searches for recipes featuring the gargantuan fruit increased by 450% on Pinterest over the past year, according to a representative, making jackfruit one of Pinterest's top trend predictions for 2017. Pulled "pork" sandwiches and nachos with jackfruit in place of traditional meat are some of the most popular recipes on the platform.
At roughly 155 calories per cup, a serving of jackfruit also contains fiber, calcium, iron and vitamins A and C. In short, it's healthy and you should probably learn how to cook it. Here's what you need to know.
First, you have to find a jackfruit.
As we mentioned, they're huge. But some jackfruits can weigh a very manageable 10 to 25 pounds. If you can carry a watermelon, you can carry a jackfruit. Find jackfruit at your local Asian market or health-food store — and, because this is the future, you can purchase a whole jackfruit on Amazon for $68.78.
Next, you have to get to the actual fruit.
Similar to a coconut, it's no easy feat to open this humongous fruit and scoop out its tasty innards. If you can buy it pre-cut or canned, that may be your best bet. But if you're up for the adventure, grab a sharp knife (machetes welcome) and check out the following tutorial for some jackfruit-splitting wisdom. Once you remove the fruit pods and edible seeds, you're ready to cook!
Split the jackfruit in half.
It's harder than it looks, but can be done with a large, sharp knife.
Remove the seeds.
Pull out your jackfruit "meat."
Try it raw ...
Some people think jackfruit flesh tastes like Juicy Fruit gum. Others say it's musky. Raw jackfruit is an acquired taste for some. If it's not your thing, know that it tastes totally different cooked, depending on how it's prepared and seasoned. 
... Or cooked.
Sauté it on the stove for some vegan BBQ sandwiches.
Often compared to the texture of pulled pork, jackfruit is a great meat substitute and cooks in a matter of minutes. Get the recipe here.
And if standing over a pan isn't for you, you can also cook your jackfruit in a slow cooker. 
Giving carnitas some solid competition, jackfruit tacos are easy to make, totally meat-free and seriously tasty. Get the recipe here.
Bottom line: Add a lot of sauce to your jackfruit — whether it's sautéed, baked or slow-cooked — makes it pretty hard to mess up. 
Yum! Jackfruit!