Is this Taiwanese celebrity holding the iPhone 7 Plus? Photo surfaces weeks before release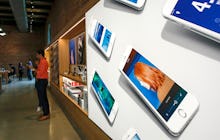 We're inching closer to the iPhone 7's supposed release date, but a number of the smartphone's features remain up for debate, including a rumored dual lens camera attached to the iPhone 7 Plus. Apple is doing its best to remained tight-lipped until its reveal event, but a newly leaked photo might confirm the existence of the iPhone 7 Plus and its coveted new camera.
Taiwanese celebrity Jimmy Lin was photographed holding what appears to be an iPhone 7 Plus. The Apple logo is barely distinguishable — but it's there, right behind his index finger — and the most interesting thing is the dual lens camera, which hasn't been featured on any other iPhone to date. Lin appears to be actively using the device, but it's certainly possible he's posing for the camera with a dummy device.
He's done it before: Leaking iPhones has developed into a bit of a tradition for Lin. A former teen pop idol turned actor and entrepreneur, Lin began by leaking the iPhone 5 back in 2012. He followed that up with a reveal of the iPhone 6 in 2014, which Apple employees from Hong Kong reportedly verified, according to gadget blog Phone Arena.
We're now just over two weeks from Apple's supposed reveal event on Sept. 7, so we'll find out if Lin's leak is legitimate soon enough.