Today is Black Women's Equal Pay Day — four months after white women closed their wage gap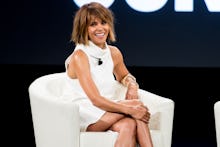 Aug. 23 is Black Women's Equal Pay Day, which marks the additional time it takes for black women to earn what white men earn in a year. To put it simply, it takes 20 months for a black woman to earn the same wages as a white man earns in 12.
According to the Center for American Progress, black women earn about 60% of what white men earn. The percentage is strikingly low in comparison to the 79% wage difference when grouping all women together. The number for all women, not accounting for racial disparities, is what's counted when determining April's Equal Pay Day.
Despite the fact that black women are now the most educated group in the United States, they are still one of the most marginalized communities in terms of wage disparities.
Fusion contextualized the wage disparities by doing the math for some of the richest and most famous black women. If Beyoncé were paid as though she were a white man, she'd make $420.6 million a year compared to her actual salary of $265 million. She would be making more than Mick Jagger's actual net worth of $336 million.
If Halle Berry were living in a society where black women were paid what white men are paid, her net worth of $70 million would be $111.1 million. She would surpass Bradley Cooper's $80 million.
Here are a few more #BlackWomensEqualPay tweets to put this disparity into perspective: