These 11 quick breakfast recipes are all you need to start your day off right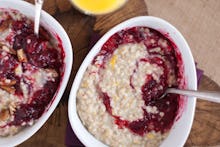 Scrambling through your kitchen sleepy-eyed each morning in an attempt to throw together something that resembles a healthy, or at least edible, breakfast, can be rough. 
But it doesn't have to be this way. Overnight breakfast recipes, large batch baked goods that last all week and freezer meal prep options can all help in your morning rush for food. Nutritionists, dietitians and lazy snoozers may all have different ideas about the importance of a morning meal, but let's be real: Any tasty and easy meal is pretty much worth having. 
Find some quick and delicious breakfast recipes below. At least a few may actually make you excited about getting out of bed in the morning. 
If it's an iced coffee type of morning, this ice cold breakfast is your perfect solution. Freeze your breakfast pops over the weekend to have a healthy grab-and-go breakfast option before running out the door.
A few minutes of nighttime prep gets you a nutritious and delicious morning meal. Make it in a jar and place a spoon on top overnight so it's ready to eat on the go by morning.
About half an hour of prep time gets you eight burritos packed with veggies, sausage, cheese, eggs and tater tots that will make you forget about whatever fast-food spot you planned to hit up.
If you dream of meat, these bake-ahead bacon-topped, egg-stuffed meat muffins are for you.
This easy-to-make coconut jam brings a new level of tropical flavor to the traditional morning toast. Soft boil an egg for a quick sandwich while your bread browns.
Store-bought granola has been outed as a sugar-packed, high calorie food, but there's nothing wrong with making your own. Whip together this fruit and nut granola to eat on its own, on yogurt or in a bowl of milk.
This breakfast salad parfait is easy to put together and even easier to customize depending on your grocery list. If you can't find quark, try labneh or plain Greek yogurt, top with herbs, tomatoes, cucumber and seeds and your breakfast is made.
Made with whole wheat flour and sweetened mostly by fresh bananas, you can argue that these breakfast muffins are, in fact, healthy. Bake a batch for breakfast all week or freeze them for hungry morning emergencies.
Before you balk at a recipe for toast, remember that you didn't think of this combo yourself. If you did, congrats. This sweet breakfast takes just minutes to put together, and it's pretty much dessert with the added benefit of fruit.
Ten minutes on the stove gets you a bowl of oatmeal just as good — if not better — than overpriced restaurant oatmeal dish you're frequently tempted to order. Just DIY.
This non-recipe quick breakfast solution may be the easiest and most satisfying of them all. Just blend fruits and bread to your liking and yum, breakfast!