Glory B! Britney Spears finally lives up to her legend on 9th studio album, 'Glory'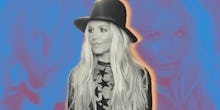 In 1998, a 17-year-old Britney Jean Spears stormed pop culture, declaring the end of her innocence from the Mickey Mouse Club with a breakout hit, "...Baby One More Time." The accompanying look landed the bit: a black a-line skirt, a knotted white blouse, fur pom-pom pig tails and the slightest hint of her bra peaking through. Despite every effort to sex up her image, she was in fact quite innocent, down to the purity ring on her finger. 
This coming-of-age fostered a fever-pitch interest — launching one of the greatest pop culture careers of her generation. At its peak, Britney was everywhere: red carpets, magazine covers, Super Bowl halftime shows, Shonda Rhimes-penned buddy roadtrip comedies, even Japanese gummy candy commercials. A 2012 Huffington Post report found her to be "the most-searched celebrity since basically the inception of the internet."
But over the last decade, Britney the hit-maker fell out of the musical spotlight as public fascination with her personal life swelled — divorce, rehab, conservatorship, the now-infamous trip to the barber for a late-night head scalping. Interest in her music waned, as did the quality of it.
Her last offering, 2013's Britney Jean failed to deliver on its "something more urban" promise. Lyrical trash fires like "I drank some red wine and now I'm walking on the sky" defined an album that was listenable, but boring, like saying you got Lo Bosworth to DJ your birthday party.
But for Britney's true stans, it was only a matter of time until pop's reigning princess rose again. See for her legion of fans, colloquially known as the Britney Army, she is Britney, bitch — a touchstone for a generation that came of age in a post-Madonna, pre-Ariana America. 
And now, with the launch of Spears' ninth studio album, Glory, she has staged a long-awaited pop return to fully-realized form. So prepare yourself, because we are going to go deep here, track-by-track deep, to break down how Britney, sans any oopses, did it again.
What immediately distinguishes Glory from its predecessors is the presentation of Britney's vocal capabilities, something that has plagued her throughout her career. From lip sync allegations, that still pervade to this day, to her unconsciously helping to popularize the usage of autotune, Spears was a meticulously crafted product by her team, never positioned as a vocal artist.
And sure, listening to "Britney Spears real singing voice" on YouTube, a video that has amassed over 7 million views, might draw the obvious conclusion that Spears is no Whitney Houston. What this does not consider is the very real concept that a voice is malleable, not fixed, and can improve over time (see: Rihanna at 15 versus 28). And though heavily vocoded at times, Glory gives perhaps the strongest indication that Britney Spears is a vocal force, albeit a gentle one.
Britney fans were quick to dole out the expected hyperbole-laden praise, stepping up to the altar to worship their deity, the benevolent Godney.
Many on Twitter were quick to position this album as the completion of Spears' holy trinity alongside 2003's In the Zone and 2007's Blackout.
From the jump on the album's FKA twigs-meets-Purity Ring sounding opener "Invitation," Glory establishes itself as Spears' rebirth. "Yes or no, but no maybes/not gonna beg so don't make me" she coos in her signature Britney sexy-baby voice, establishing herself as a sure-headed pilot in a reality she's so often been forced into the backseat of. It's not a banger nor a ballad, but rather a mid-tempo opener that establishes a level of musicianship not heard in nearly a decade since her 2007 effort, Blackout.
But it wasn't just the diehards that were doling out praise. "Glory represents something better than a return to form; it is, at long last, a step forward," wrote Billboard's Jennifer Keishin Armstrong. And she's not wrong. 
Tracks 2-4 ("Do You Wanna Come Over?," the album's lead single, "Make Me" and "Private Show"), all meticulously rolled out in the weeks leading up to the album's release, are a firm reminder that while she may be an embarrassing mom on Instagram, when it comes to her music, BritBrit's desires are less PTA and more PDA.
On "Private Show," BritBrit playfully celebrates her single status. "Slide down my pole watch me spin and twerk it," she commands before making it known that "All [her] tricks, they're spectacular, baby." As though we had any doubts.
But it's on track 5, "Man on the Moon" that we're treated to our first traces of being infallible as Spears expresses patience in waiting for a mysterious man on the moon (Andy Kaufman, perhaps?). Of course, this isn't her first time she's engaged in a galactic motif; 2000's "Oops!... I Did It Again" famously took place on Mars, while her 2009 video for "Kill the Lights" found a cartoon Britney orbiting on a spaceship.
Apparently having discovered this mysterious moon man, Britney is down to business asking for "just love and a little bit of patience" on track 6, "Just Luv Me," the album's rumored second single.
If the album contains a "delete this" moment, it comes on the album's 7th track "Clumsy" which evokes Nicki Minaj's better forgotten sophomore album, Pink Friday: Roman Reloaded in its reliance on electro-pop, EDM-infused instrumentals instead of, ya know, an actual chorus.
Thankfully, the bad taste is quickly swished away with the album's eighth track, the refreshingly playful "Slumber Party," which continues the already-established notion that Ms. Spears is one horny pop star. 
There's candles hanging from the ceiling and sex tape innuendo abound — this isn't some "let's all do face masks" slumber party.
On the album's ninth track, "Just Like Me," Britney sings about a girl that looks just like her, likely referencing RuPaul's Drag Race alum and famed Britney impersonator, Derrick Barry.
Though she referenced all her tricks just a few tracks earlier, on the album's tenth track, "Love Me Down," Britney pushes her side dicks to the left, making it clear that her baby is "gonna love [her] down" in a clear and refreshing ode to cunnilingus.
Clearly shook from her all of her loving, Britney admits that she's been unable to forget the memory of the evening's unspeakable acts on the unmemorable 11th track, "Hard to Forget You," a song that, contrary to its title, is quite easy to forget.
Having middled a bit on the previous two tracks, Britney turns the album out by bringing the heat and dialing it up to an all-out inferno for the album's 12th and final track, "What You Need," giving pure, unexpected vocal-ney.
What's that you wanted? Five bonus tracks on the deluxe edition? *Loud thud* Here they are.
Track 13, "Better" is like the fries at In-N-Out Burger, fine that they came with the meal, but not what anyone came for. This track is the most Britney Jean-triggering of the bunch in its lack of distinctiveness and its over-reliance on bringing in the beat when it should have brought, ya know, the B.
Flexing her Spanish-speaking muscle, which is to say three words, Britney's voice is front row center against subtle guitar licks that crescendo into an ear-friendly chorus on the album's fourteenth track "Change Your Mind (No Seas Cortes)" (Translation: Don't be polite.). "You don't want to cross the line/but I'mma make you change your mind," she sings.
Track fourteen, "Liar," is best summed up via this tweet:
Britishney (first heard in 2012's Scream & Shout) resurfaces in Spears' distinct pronunciation of dancing ("dahn-sing") on the deluxe album's penultimate track, a song that on a lesser artist might've been a throwaway, but in Brit's now distinctly capable chords, manages to be the audio equivalent of chicken soup to the audiophile's soul. 
Proving herself a trilingual princess of pop, the legendary Miss Britney Spears closes out the deluxe edition of the album with an entirely French-spoken lullaby Coupure Électrique. Why? Because she's Britney, bitch — and for no other reason at all.
After emerging from the sewage leak that was Britney Jean, the pop music emergency alarm has officially been pulled because Britney Spears is back and nobody will be the same. Unless you're not a fan, in which case, what are you doing down here anyway?
The album may not win her her second Grammy Award (despite a Twitter campaign #grammy4glory), but Glory is the album Britney needed to help rebuild her brand, more importantly, the album her loyal fans deserved.