After a gay couple's home was vandalized, this whole neighborhood fought back together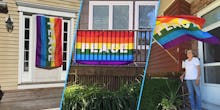 Cari and Lauri Ryding came home from a vacation earlier this month to find that the rainbow flag they had hanging outside of their Natick, Massachusetts, home had been stolen — and that their house had been pelted with eggs.
"It really sent us reeling," Cari told the Boston Globe. The Rydings had hung the flag in honor of the victims of the Pulse nightclub massacre in Orlando, Florida; now it was gone — not to mention their home had been vandalized in an apparent anti-gay attack. 
But when their neighbors found out about what had happened to the Rydings, they came together in an epic show of support.
A group of the couple's Natick neighbors came together to order rainbow flags for any house that wanted one. "We said, 'Why don't we all have the flags? They can't take them from all of us,'" Dennis Gaughan, whose wife, Maura, helped coordinate getting flags for the neighborhood, told the Boston Globe.
On Sunday, a group of children went house to house passing out the flags.
"It just happened so quickly — the whole neighborhood said, 'Get me a flag. Get me a flag. Get me a flag,'" neighbor Penni Rochwerger said to the Boston Globe. "If we can stop whatever hate is out there, I think that's really important."
Now there are more than 40 rainbow flags hanging in the Rydings' neighborhood. 
"What they did completely overshadowed that fear and we are just overwhelmed with the kindness and generosity," Cari told the Boston Globe.