'Stranger Things' concept art reveals Barb's original fate. It's gruesome.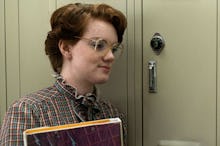 If you want #JusticeForBarb — the fan favorite of Netflix's Stranger Things series — you may soon have it.
(Editor's note: Spoilers ahead for the first season of Stranger Things.)
The show's creators promise that if the show is renewed, season two will tackle the aftermath of the character's death. But whether there's any comeuppance for taking away everyone's favorite Millie from Freaks and Geeks impersonator, Barb is truly dead. 
"I can't see it happening," co-creator Matt Duffer told IGN when asked if Barb would return to the show. "But Barb will not be forgotten." 
However, Barb's death at the hands of the Demogorgon could've been a lot worse — and by worse, we mean extremely gruesome and gory. Aaron Sims of Aaron Sims Creative — a visual effects studio — told Screen Crush that Barb's initial death involved her chest being ripped open, with her ribs poking out of her torso.
That sounds lovely, and the studio's Instagram shared concept art for another iteration of Barb's death, which you can check out below (for this one, a spider is crawling on her mouth!). 
In the end, of course, Barb's death isn't exactly pleasant — a slug does crawl out of her mouth. But Sims says the viewer "needed to see something that was very recognizably dead." 
Regardless of how it transpired, it's safe to believe that Barb is gone, despite the internet's cries for her return.